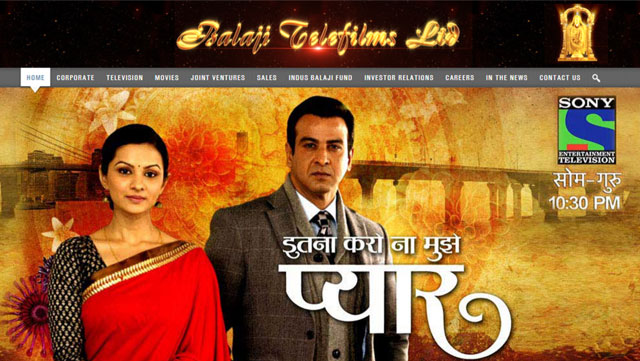 Film and television production house Balaji Telefilms Ltd is venturing into the digital media space through a new unit that will churn out original shows tailored for web and mobile users.
ALT Digital Media, the newly launched wholly owned subsidiary of Ekta Kapoor-promoted Balaji Telefilms, is targeting internet users in the age group of 19 to 30 years, as per a press statement. Its subscription-based and premium advertisements backed content will be available in Hindi and English, followed by other languages.
"Our foray into the digital space is aligned to our strategic intent to tap into the growing digital video phenomenon, where we bring our unique story telling strengths to create compelling content and deliver it directly to audiences who are always connected and seek quality, original entertainment in new formats," said Ekta Kapoor, joint managing director, Balaji Telefilms.
The new unit will roll out original drama series' across genres starting 2016.
"This foray enables Balaji to not only create and own content IP but to also build its own consumer base of audiences who seek original content and in the process, build a strong and valuable B2C brand. We are confident that ALT Digital Media will soon carve its own identity as a leading digital entertainment content creator and distributor in India for worldwide audiences," said Sameer Nair, group CEO of Balaji Telefilms.
The company is already in the process of building a team for overseeing production. It has already initiated discussions with technology and video distribution platforms to build partnerships for digital content.
Earlier this month, Star India Pvt Ltd, a part of entertainment media major 21stCentury Fox, exited from its investment in Balaji Telefilms, by selling its entire 25.99 per cent stake for Rs 107.8 crore ($16.9 million). Bulk deal data from the Bombay Stock Exchange shows that Balaji promoters Ekta and Shobha Kapoor (daughter and wife of veteran Bollywood actor Jeetendra) had picked up shares worth Rs 18 crore in the process.
HNI investor Radhakishan Damani and Nair (former chief of Star India) also acquire shares sold by Star.
Star had acquired stake In Balaji Telefilms 11 years ago through its Dubai-based affiliate Asian Broadcasting FZ-LLC.
---