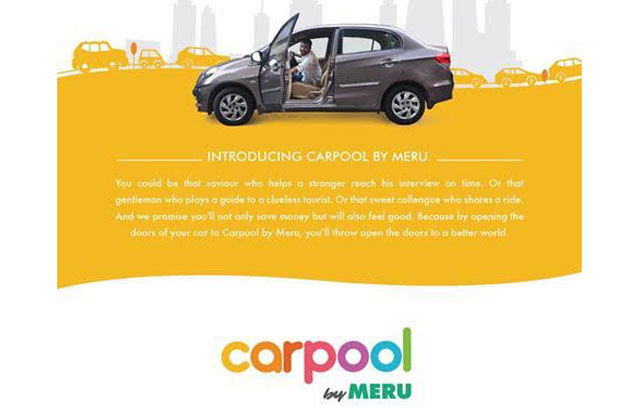 Meru Cab Company Pvt Ltd, one of India's oldest radio taxi firms, is venturing into the car pooling space by launching a new service for customers travelling to the same area.
The new 'CarPool' service allows private car owners to share rides with others and is integrated with Meru's mobile app, as per a press statement.
"The top 20 cities alone have over 12 million cars and the opportunity is to bring them on a popular and trusted platform like Meru. There is also a growing consciousness among people about the need to reduce congestion on roads, pollution/carbon foot print and stress associated with travel especially on daily traffic-heavy routes," said Siddhartha Pahwa, CEO of Meru Cabs, which is backed by India Value Fund Advisors (IVFA).
"The Carpool initiative aims to encourage a simple act of reducing the one-person per vehicle issue through a communal effort of sharing a ride with another person headed in the same direction while offering convenience and economy of travel," Pahwa added.
Users can register for the service on the app by furnishing details such as mobile number, email address and Facebook profile. The Meru app team conducts elementary verification by checking driver's license and PAN/Adhaar card details. Once successfully registered, the user can look up for other registered members travelling on the same route and time, and connect with them.
Meru has also struck a partnership with mobile wallet company Paytm to offer its customers the option of cashless payments.
"It (carpooling) is a great initiative by Meru. This would help the consumers to reduce their travel costs significantly as well as reduce the stress involved in travel. For some, it would help in building new acquaintances as well. Sharing economy has been growing well across the globe and we expect Indian consumers to also latch on the same," said Amit Lakhotia, vice president, Paytm. Users can also use the ICE (In Case of Emergency) feature on the Meru app to share location details with registered contacts.
Though there are a number of ride-sharing apps in the market, Meru is the first taxi company to venture into this nascent but highly advocated business.
Online travel group Ibibo had launched a carpooling app named Ryde in April.
WestBridge Capital-backed Carzonrent India Pvt Ltd, which runs radio cab services besides offering self-drive car rental and fleet management services, recently acquired Bangalore-based 42 Solutions Pvt Ltd, which runs a ride sharing app RidingO.
Cubito, another player in this space, pivoted to become a B2B employee transportation management platform due to its inability to achieve scale.
Accel Partners and Index Ventures-backed online carpooling venture BlaBlaCar forayed into India in January while Rocket Internet-backed carpooling firm Tripda, entered the country late last year.
At a global level, BlaBlaCar competes with Uber, which operates a carpooling service called UberPool in select markets. UberPool is not available in India yet.
---