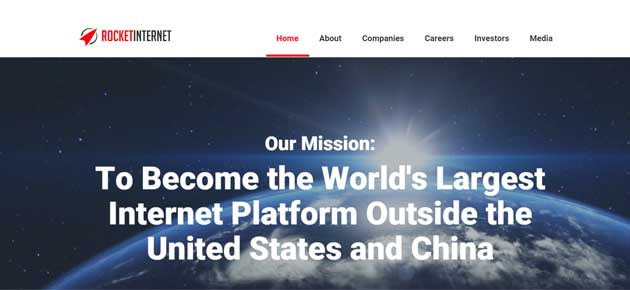 A joint venture unit of Rocket Internet, the German internet company and startup incubator, plans to launch one new internet venture in Asia Pacific every quarter.
"The roll out of new companies is part of the strategy to build one of the largest internet platforms in the APAC region," Asia Pacific Internet Group (APACIG), a joint-venture between Rocket Internet and Qatar-based telco Ooredoo, said in a press statement.
APACIG, which also has investment presence in India, begins its aggressive bet in Asia with the Australia launch of online beauty marketplace Vaniday. First launched in Brazil, Vaniday also has presence in the UK, Italy, France and the UAE.
Rocket Internet's core model is to replicate successful global internet businesses in emerging markets outside China with rigorous marketing. It brings in industry executives, gives them stakes in its companies and designates them as co-founder/founder/CEO. Most of its portfolio companies have multi-geography operations.
Launched in the second quarter of 2014, APACIG has 14 e-commerce and online marketplace companies in its portfolio. APACIG started building India exposure with $4.5 million investment in printing solutions startup incubated by Rocket Internet, PrintVenue.
"We are operating in highly diverse markets - from developed ones such as Singapore and Australia to rising stars such as Myanmar and Pakistan. Our portfolio of companies fits the macroeconomic trends of different regions and the demand for new online businesses," said Hanno Stegmann, CEO of APACIG.
One of its portfolio companies Easy Taxi was supposed to launch its services in India. However, as per recent reports, that plan has been cancelled for now.
Founded in 2007 by the Samwer brothers (Marc, Oliver and Alexander), Rocket Internet already has a sizable direct presence in Asia, including India. The Indian ventures backed by Rocket Internet include Jabong, FabFurnish, and FoodPanda. Foodpanda operates under Hellofood brand in some markets.
Jabong.com, Rocket's most serious bet in India, has become the top money losing initiative for the company in the country. Jabong's operating loss margin rose far ahead of Southeast Asian lifestyle e-commerce firm Lazada and Latin American e-commerce marketplace Linio in the first quarter of 2015, making it the most operating loss making property among Rocket Internet's top ventures.
---