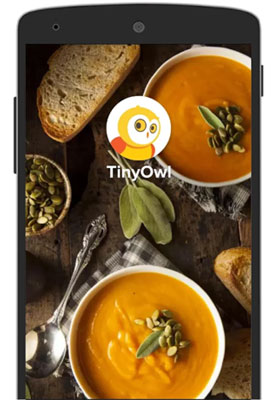 TinyOwl Technology Pvt Ltd, a Mumbai-based startup that offers a location-based mobile app for ordering food, is shedding jobs.
"Layoffs are a part of the restructuring strategy. There are some areas where as a company we need to curtail operational inefficiencies and on the other hand increase efficiency, productivity in focused departments, providing the best innovative offerings to our customers. We are looking at developing focused departments to help service our customer better," Tanuj Khandelwal, co-founder of TinyOwl, said in a statement.
The development was first reported by Mint, which added that over 100 jobs in Mumbai and Pune have been put on the block. Khandelwal did not confirm how many jobs are being shed. TinyOwl's sales, marketing, business intelligence and data teams saw maximum churn. In February, the company claimed to have 350-400 staffers.
The online food ordering business in India is estimated to be worth around Rs 5,000-6,000 crore, growing at about 30 per cent month-on-month, according to a report by India Brand Equity Foundation. However, this space is transactions driven and margins can be wafer for food tech companies.
The Mumbai-based TinyOwl was founded in 2014 by Harshvardhan Mandad, Shikhar Paliwal, Gaurav Choudhary, Saurabh Goyal and Khandelwal, all of whom are IIT Bombay alumni. The mobile-first app is funded by Sequoia Capital, Nexus Venture Partners and Matrix Partners. In fact, TinyOwl's deal to raise Rs 100 crore in Series B funding from the three VC firms, is considered to be the biggest one in the food tech space.
TinyOwl has two offerings; TinyOwl HomeMade (for procuring meals from local chefs) and a similar service for food ordering from nearby restaurants. Recently, TinyOwl HomeMade started operations in Bangalore. Users can either make payments through their credit card or opt for cash-on-delivery. The app is available on Android and iOS platforms.
TinyOwl does not intend to stop its restaurant ordering and delivery practise, the company said.
Despite the layoffs, TinyOwl says that its growth plans are on track.
"TinyOwl has grown immensely in the past year and our efforts continue to be focused on strengthening the brand's position in the market at a national level. TinyOwl is on track with the plan of launching 50 cities by 2016," Khandelwal added.
Moreover, the company is set to hire about 100-150 employees for its technology, design and business development teams, he said. This indicates that TinyOwl was dis-satisfied with some of its previous hires.
The company has operations in Mumbai, Pune, Delhi NCR, Hyderabad, Bengaluru and Chennai.
In the last few years, the country's booming startup ecosystem has attracted talent from some of the best engineering colleges. While many startups have gone on to create value for investors and employees, some are compelled to either cut costs (through job cuts) or close down completely.
In August, Helion Venture Partners- backed TalentPad.com (formerly known as Talent Auction), a Bangalore-based curated marketplace for technology recruitment, closed down its operations. Last year, #nwplyng, a social music-sharing app with a gamification feature, shut shop.
Recent news reports indicate that Housing.com has shown the door to 600 employees to trim costs.
Having said that, the food tech space in India is currently one of the hottest segments with a few companies raising funds from VC firms, as per VC funding data from VCCEdge, the data research platform of VCCircle.
Recently, Bangalore-based Bundl Technologies Pvt Ltd, which owns and operates online food ordering startup Swiggy.com, has raised Series B funding of $16.5 million (around Rs 102 crore) in a round led by Norwest Venture Partners (NVP) for expanding its geographical footprint and brand building.
Also, Delhi-NCR-based Bite Club raised Rs 3 crore from Powai Lake Ventures and angels such like Aneesh Reddy of Capillary Technologies, Ashish Kashyap of Goibibo Group and Alok Mittal of Canaan Partners. In February, food technology and delivery start-up YuMist raised about Rs 6.2 crore from venture capital firm Orios Venture Partners.
---