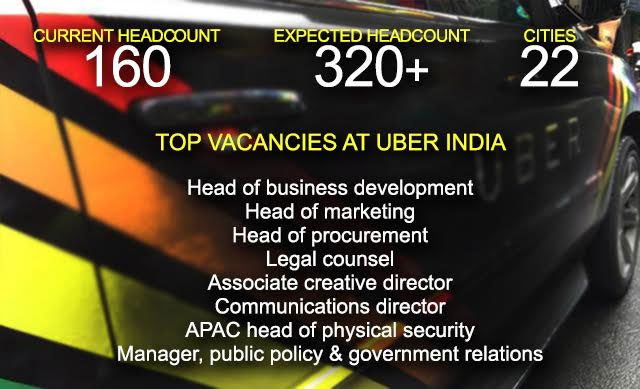 Ride sharing app Uber Technologies Inc. is upping the ante on the human resources front in India, its second largest geographical market.
Sources said that the San-Francisco-based company 'will easily more than double' its direct headcount in the country by December 31, 2015
Uber, which competes with domestic rivals such as Ola and Meru, currently employs 160 full time staffers.
Uber's global website shows that at least 120 open positions are to be filled across Indian cities.
"India is a market of global priority for Uber. To ensure we have local expertise we decided to build a central team which will enable faster decision-making and hence we are hiring across departments and locations," Pradeep Desu, recruiting lead, Uber India, said in response to a Techcircle.in query.
Uber, which is fighting legal and regulatory hurdles in India, has created several new roles tailored for the India market.
Uber broke tradition in June by appointing Amit Jain from Renti.com as president and India head, a first-of-its-kind position created by the Google Ventures and Fidelity Investments-backed company.
Now, it is scouting for experienced hands for functions such as sales, logistics, taxation, legal, payroll, marketing, corporate communications, public policy, F&A and others.
Uber also has openings for leadership roles such as head of business development, communications director, creative director, head of Asia Pacific security and so on.
"We continue to see rapid growth in India. As we look to build out and expand the breadth and depth of more functions locally, we can definitely expect to see India becoming one of the bigger markets for direct employment," Desu added.
In a recent interview with Techcircle.in, Eric Alexander, Head of Business, Asia, Uber, said that the company is recording month-on-month growth of over 40 per cent in India.
Uber presently has operations in 22 Indian cities. It recently launched cash payments facility in India, a first for the company in any geography.
Uber counts Bangalore and Kolkata as two of its fastest growing cities globally. In July, Uber said it will invest $50 million in Hyderabad over the next five years to establish a facility that will house hundreds of its employees and be its biggest international office.
Uber is one the world's heavily funded startups. Marquee names such as Fidelity Investments, Wellington Management, BlackRock Inc, Summit Partners, Kleiner Perkins, Google Ventures, Menlo Ventures, New Enterprise Associates (NEA) and Qatar Investment Authority among others have put money in the company. Tata Capital's flagship private equity fund Tata Opportunities Fund (TOF) has invested an undisclosed amount in Uber. This is part of Uber's $1.2 billion pre-IPO fundraising effort which is being led by China's Hillhouse Capital Group.
However, the team at Uber India has their work cut out. The regulatory overhang over Uber, which started after a passengers' alleged rape by an Uber driver in December, continues to play out. It has been facing ban calls in Delhi and other places
Last week, the woman allegedly raped by an Uber driver "voluntarily" dismissed the lawsuit she had filed in a US court against the web-based taxi company.
In a recent notice filed in the US District Court, Northern District of California, the woman's lawyers submitted that "Plaintiff Jane Doe hereby voluntarily dismisses the above-captioned action against defendant Uber Technologies with prejudice. Each side shall bear its own costs, expense expenses, and attorneys' fees."
Since the Indian woman was not named in the lawsuit, she was identified as 'Jane Doe'.
---