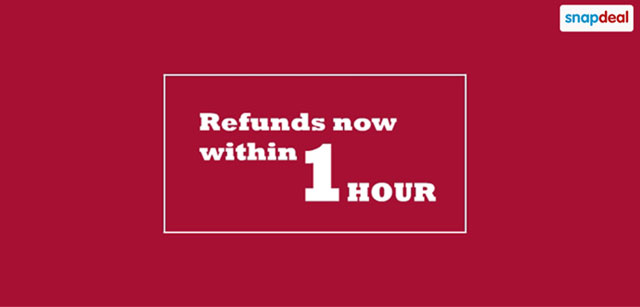 Online marketplace Snapdeal will now refund payments within an hour of receiving returned products from customers, as per a press release.
Until now, all refunds were processed between seven and 10 days of receiving the returned product.
Snapdeal, which is run by Jasper Infotech Pvt Ltd, will make instant refund possible through Immediate Payments System (IMPS) transfers, a facility provided by banks across the country.
"We hope that customers never want a refund, but we respect that it is a crucial part of the customer return experience. Having said that, we are extremely proud to introduce the country's fastest instant refund facility assuring our customers the most seamless refund experience," said Anand Chandrasekaran, chief product officer, Snapdeal.
"We have already noticed that close to 100 per cent refunds take place within an hour and 85 per cent within 30 minutes, making this a highly reliable refund service for our customers," added Chandrasekaran.
Last week, Flipkart had launched its instant refund mechanism facility, a move that allows customers to get refunds within 24 hours of returning the product.
These are important steps towards stimulating online shopping in the country since returns are seen as a major challenge. Reportedly, around 5-9 per cent of all e-commerce orders end up being returned in India.
In June, Snapdeal and QuickDel Logistics Pvt Ltd, which operates under the GoJavas brand, launched a new service that will ensure pick up of return/replacement e-commerce orders within 90 minutes of intimation.
Research and advisory firm Gartner estimates that India's e-commerce market will touch $6 billion this year.
---