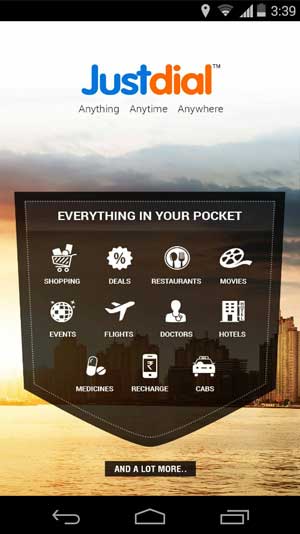 Online local business search engine company Just Dial Ltd, which is slowly trying to morph into an e-commerce marketplace, has launched a new app that integrates each of its 25 transaction-related services on a single platform.
"Just Dial's new visually appealing multi-purpose Search Plus app is aimed at enhancing experience for its users by providing a one-stop online solution for a variety of user requirements pertaining to information retrieval, search and online transactions," the Mumbai-based company said in a notification to the stock exchanges. It has updated its existing app to provide these transactional capabilities.
Until now, separate sets of firms have catered to products related sales (e-commerce) and booking local services. Justdial is trying to integrate both in a single platform by leveraging its deep penetration with local businesses service providers.
In the last few months, the company has started added a 'shop online' feature for 25 Search Plus features on the homepage where it lists products across several categories such as mobile, appliances, electronics, groceries, taxi bookings and others. The company gets commission revenue from the Search Plus offering. With the new app, all these services will be available on a common platform.
While Just Dial has unveiled the Android version of the app, its iOS version is to be launched shortly.
Just Dial is expected to spend nearly Rs 100 crore on advertising and marketing the Search Plus offering.
Just Dial is also rolling out a mini-ERP system, called JD Omni, that will enable small businesses to manage their inventory, billing, and third party logistics, through a cloud-based system. It will also have bar-coding system and QR codes.
In an earlier interaction with Techcircle.in, Just Dial founder and managing director VSS Mani had also said that that the firm now plans to get more involved with vendors for its hyperlocal products ordering service. Although it would still steer clear of getting into an inventory-based model which makes it an asset-heavy business, it would get into delivering products for some categories with its own team to begin with and will outsource it in the longer run.
The company has begun hiring people for the same. "It will initially start with our payrolls and eventually it has to be outsourced, because you need large number of people to do the stuff," Mani had said.
This would pitch Just Dial with several hyperlocal product ordering and delivery startups that have launched their business in the last year. Firms such as Grofers and Peppertap among others have raised loads of VC funding fairly early in their lifecycle as investors have lapped on to the business opportunity.
For the quarter ended June 30, Just Dial had posted an 18 per cent increase in the net profit on account of higher traction from paid advertiser campaigns. The firm recorded a net profit of Rs 33.17 crore as against Rs 28.11 crore reported in the corresponding year-ago quarter. Income from operations increased by about 25 per cent to Rs 168.62 crore.
Shares of Just Dial closed 13.86 per cent higher today at Rs 929.5 in a strong Mumbai market.
---