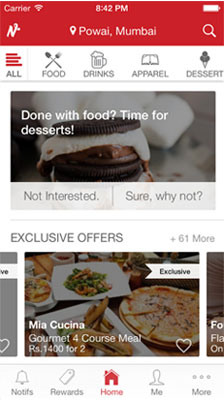 Personal assistant app Helpchat has acquired Mumbai-based deals and discovery platform Niffler for an undisclosed amount.
The acquisition will enable Bangalore-based Helpchat, run by Coraza Technologies Pvt Ltd, to launch its services in Pune and Mumbai, where Niffler is already present.
"We are geared for aggressive pan-India growth in coming months. The acquisition of Niffler is one of the first major steps in this direction," said Ankur Singla, CEO and founder of Helpchat.
Singla said the acquisition will also help Helpchat accelerate growth of its personal assistant engine across offline commerce and local deals based on user intent.
Niffler allows users to access deals and discounts from local brick-and-mortar stores across categories including food and drinks, spas and salons, apparel and home décor. Owned and operated by Niffler Labs Pvt Ltd, it had recently introduced chat-based interactions between consumers and local businesses.
Chat-based concierge platforms seem to be attracting considerable investor attention this year. Bangalore-based Lookup and GoodBox had raised funds in May this year. While Lookup secured an undisclosed amount in Series A round of funding from Twitter co-founder Biz Stone, GoodBox raised $200,000 (about Rs 1.3 crore) in seed funding from Manipal Media Networks. Haptik and Yellow Messenger are the other major players in this space.
Niffler was founded in 2014 by three IITians – Edul Patel, Prince Arora and Viraj Shah. It had raised $1 million in a seed round of funding from early-stage investor SAIF Partners in March this year. At the time of its angel fundraising, the startup claimed to have more than 3,000 active offers listed across 15,000 stores, including brands such as McDonald's, Ammi's Biryani, Birdys, Cafe Moshes and Four Fountains De-Stress Spa.
The app provides a personalised experience where users are notified of new offers from brands as soon as they go live. It learns from a user's habits and offers curated deals based on items that a user likes. When users are near a store offering a deal or have just walked into a mall, the best deals available for them pops up on their phones.
"We share Helpchat's vision of assisting consumers in getting more done by doing less, using its chat-based personal assistant app," Niffler co-founder Edul Patel said.
Helpchat offers information and services across categories such as mobile and DTH recharge, tech support, travel booking, holiday guidance, grocery, food, shopping, deals, coupons, laundry, movie tickets and others.
The company recently pivoted to become a chat-based personal assistant app and rebranded itself as Helpchat from Akosha.com, which used to be an online customer feedback platform.
Akosha was founded in 2010 by Singla, who was joined by Avinash Vankadaru (in operations) and Vishal Pal Chaudhary (in technology). Akosha provided users information on pricing, discounts, customer service, booking appointments, travel research and so on. Akosha was shut down in July and Helpchat was born then.
---