India has jumped five places to become the 18th largest market for the gaming industry globally, according to a report by market research firm newzoo.
The report, which listed the top 100 countries by game revenues for 2015, showed also that India is estimated to post a 62 per cent growth in gaming revenue this year to $428 million.
However, IT industry group Nasscom has estimated that the Indian gaming industry is close to reaching $890 million. Nasscom projects that revenue from casual gaming in India is set to touch $244 million this year.
The newzoo report also said that India is one of the fastest-expanding games markets in the world and that the growth is led by the mobile segment. It estimated that India's games market will cross $1 billion by 2018, growing at a compound annual pace of 49.2 per cent during 2014-18.
The newzoo report estimated that global revenue from the gaming industry will hit $91.2 billion this year, up 9.5 per cent from $83.6 billion last year.
For the first time, China emerged as the largest gaming market after overtaking the US. The report estimated China's revenue in 2015 at $22.2 billion, followed by the US and Japan.
Asia on the rise
The data showed that North America and Western Europe no longer dominate gaming. "The market has become a truly global playground, and the lion's share of market growth can be found outside of mature markets," newzoo CEO Peter Warman had said in April this year while releasing the 2014 Global Games Market Report. The fastest growth in mobile games is happening in China and the surrounding Southeast Asian market, he said at the time.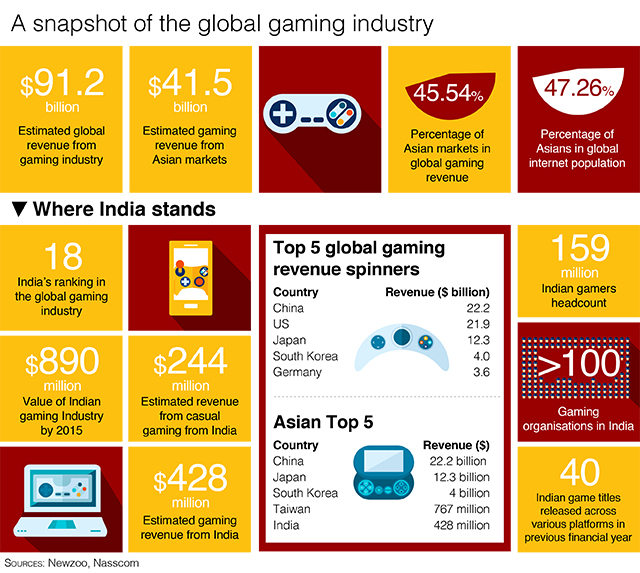 According to Global Mobile Game Confederation, the Asia-Pacific region remained by far the largest mobile market in the world last year, with more than 760 million mobile gamers generating $13.6 billion in revenue in 2014. By 2017, the global games market is estimated to reach $102.9 billion.
The Asian gaming market is estimated to generate total revenue of $41.5 billion, accounting for 45.54 per cent of the global revenue by the end of 2015. The top five Asian gaming heavyweights by revenue are China, Japan, South Korea, Taiwan and India.
Buzz in the Indian gaming arena
A number of factors work in favour of the Indian gaming industry. For instance, India has ample availability of creative talent and skilled workforce across sectors including IT, testing and arts. Moreover, several tech and gaming companies have set up development centres in the country. These include companies such as Microsoft, Nvidia, UbiSoft, Zynga, Electronic Arts, Disney, Playdom, Sony and Digital Chocolate.
Gaming startups in India have also caught the attention of investors.
In September, Chinese conglomerate Lead Eastern Group invested $15 million for a 10 per cent stake in Reliance Games' Zapak Mobile Games Pvt Ltd. The same month, pre-owned console games store GameXS, run by Gurgaon-based Krieda Solutions Pvt Ltd, raised an undisclosed amount in seed funding from Mumbai-based angel network Lead Angels. Sanjay Krishna Goyal, founder and CEO of ACL Mobile Ltd, was the lead investor.
In July, Snapdeal's Kunal Bahl and Rohit Bansal invested in MadRat Games, a Bangalore-based offline gaming company, which also raised money from Flipkart co-founders Sachin Bansal and Binny Bansal.
Also in July, gaming company Nazara Technologies CEO's, Manish Agarwal, had told Techcircle.in that mobile gaming in India will mirror growth of the e-commerce industry. While the last three to four years belonged to e-commerce, the next three to four years would be big for gaming in India, he had said.
---