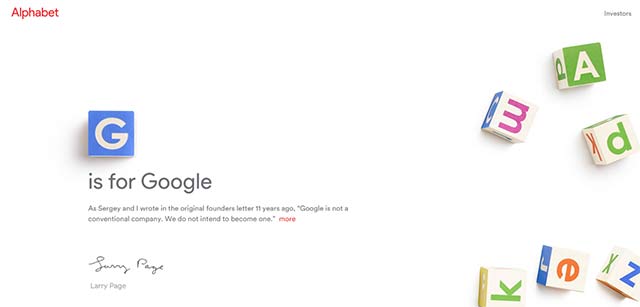 Google's parent Alphabet Inc has registered a 13 per cent rise in net revenue to $18.7 billion on account of substantial growth in revenue from mobile searches and YouTube.
Alphabet reported a 45.2 per cent rise in net income for the third quarter ended September 30 to $3.98 billion, up from $2.74 billion recorded for the same quarter last year.
Alphabet's numbers were also aided by slower rise in operating expenses. Operating expenses grew by 9.1 percent to $13.97 billion for the quarter under review.
(A year ago, costs were up by 28 per cent.)
Therefore, the company's operating profit margin went up to 25.2 per cent from 22.5 per cent in the corresponding year-ago period.
"Our Q3 results show the strength of Google's business, particularly in mobile search. With six products now having more than 1 billion users globally, we're excited about the opportunities ahead of Google, and across Alphabet," Ruth Porat, CFO of Alphabet and Google, said in a press statement.
The six products that have over a billion users each are: Search, Maps, Chrome, YouTube, Android and Google Play.
The number of paid clicks, where Google gets paid only when a user clicks on the ad, increased 23 per cent compared to eight per cent growth in the same quarter last year. Total advertising revenue increased by 13 per cent to $16,781 million.
The earnings result for Q3 covered the final three-month period in which the company operated under its erstwhile structure.
In August, Google, which has evolved from an internet search engine to a diversified tech giant, said it is creating a new holding firm named Alphabet to better focus on myriad businesses that straddle driver-less cars, video streaming, balloon-powered internet access, thermostat & smoke detector and more.
Under the new arrangements, Google became a privately held, wholly-owned subsidiary of the new listed firm Alphabet.
Alphabet has replaced Google Inc as the publicly-traded entity and all shares of Google have automatically converted into the same number of shares of Alphabet.
Google retained the internet business while all non-internet business units moved out to become independent subsidiaries of Alphabet. Indian-origin Google executive Sundar Pichai is the CEO of the thinned down version of Google.
Starting January, Alphabet will report Google's financial numbers separately from the other businesses.
Buyback
The company also announced that its board has authorised a stock repurchase of up to $5.09 billion of Class C shares. Following the announcement, Alphabet's shares soared 9.5 per cent to $745.75 in after-hours trading, taking the company's market value close to $500 billion.
---