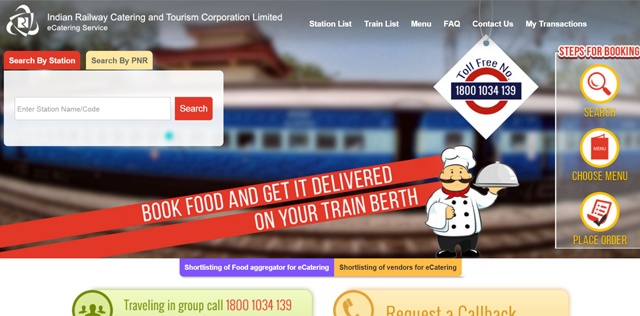 You can now order meals from KFC, Dominos Pizza, Copper Chimney and other popular food joints while waiting to board a long-distance train.
The Indian Railways Catering & Tourism Corporation Ltd, or IRCTC, has initiated a pilot project to provide e-catering services at 45 railway stations.
The station-based 'Food on Track' service expands the train-based e-catering service, which was announced in the 2015-16 railway budget to enable passengers to book and receive meals at their berth while traveling.
Depending on the success of this pilot project, the service will be extended to more stations, the railways ministry said.
The e-catering facility allows users to make bookings through the company's website, by phone or a text message with details of PNR and seat number.
Soon, a mobile app will be launched for making bookings. Payment can either be made online or in cash after delivery.
The ministry also extended the train-based service, which was initially available on 28 trains without a pantry car, to 1,516 trains.
The 45 stations covered under the station-based scheme include Howrah, Guwahati and Patna in the eastern region, Mumbai, Surat and Vadodara in the west, Vijayawada, Chennai and Bangalore in the south, and New Delhi, Amritsar and Chandigarh in the north.
"The objective of the service is to provide a range of good quality and hygienic food for rail passengers, with the convenience of pre-ordering and delivery at train berth/seat," the ministry said.
IRCTC has floated tenders for getting more food aggregators and vendors for the e-catering service.
---