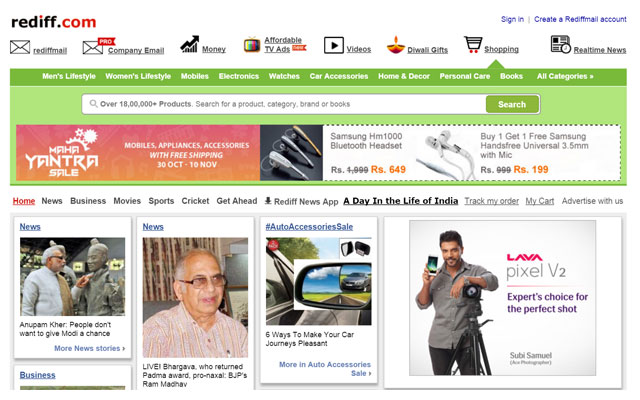 NASDAQ-listed Rediff.com India Ltd has pared net loss for the second quarter ended September 30, 2015 to $1.76 million from $3.02 million in the corresponding year-ago period, by reducing overall costs.
Rediff.com, one of the early successes in the Indian internet space, cut operating expenses by 20 per cent to $2.99 million from $3.77 million in the year-ago period.
Overall revenue was down six per cent to $3.42 million on account of the depreciating rupee. The Indian rupee slid by seven per cent vis-Ã -vis the US dollar in the quarter gone by. Rediff.com generates a lion's share of its revenue from India.
Gross margin improved to 33 per cent from 25 per cent in Q2 last year. In the previous sequential quarter, Rediff.com reported gross margin of 29 per cent.
For the last few quarters, Rediff.com has been keen to grow its e-commerce marketplace.
"We made progress this quarter with our move toward adopting a media company business model in which online marketplace sales are the primary driver of overall revenue," said Ajit Balakrishnan, chairman and CEO of Rediff.com
Marketplace revenue as a share of total revenues grew to 33 per cent in Q2 from 31 per cent in the corresponding period last year. In rupees, marketplace revenue grew 6 per cent on a year-on-year basis and 26 per cent sequentially.
"We have sufficient room to grow marketplace revenues, as less than one per cent of users who come to us for news, information and communication services shop with us. We are implementing initiatives to raise this percentage," Balakrishnan added.
Further, he said that the company earns an average take rate or margin of 26 per cent on products bought through its marketplace.
Rediff.com, which provides a platform for news, entertainment and shopping, depends on an advertising and fee-based business model for revenue.
Recently, Rediff.com said it plans to launch a real-time messaging and sharing platform for users.
Christened 'Conversations,' the new platform allows users to engage on topics of common interests while sharing articles, links, images and documents.
---