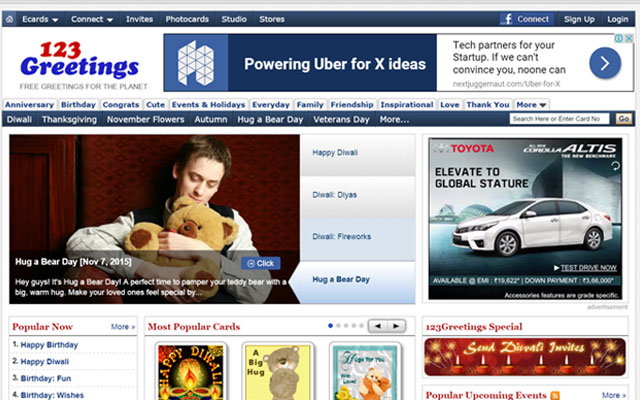 IntraSoft Technologies Ltd, which owns the e-greeting cards site 123greetings.com, said second-quarter revenue more than doubled driven by higher sales at its US-focused e-commerce unit.
Revenue for the quarter ended September 30 rose to Rs 154.68 crore from Rs 59.63 crore a year earlier. Net profit jumped 80 per cent to Rs 1.66 crore, the company said in a statement.
Sales at its US-focused e-tail unit, 123Stores.com, more than doubled to Rs 150 crore from Rs 56 crore. The unit recorded growth across all product categories with furniture, patio, lawn and garden being the largest segment. The number of orders shipped tripled to 377,083 from 118,606.
The company said that it sources products from about 1,440 brands and that it is adding 10,000 products every month. "During this quarter, we tied up with a new marketplace Jet.com and added a number of new suppliers and products to our offering, which is reflected in the top-line growth," said managing director Arvind Kataria.
IntraSoft said also that 123Greetings.com, which earns revenue mainly from online advertising, reported higher mobile app usage during the quarter with the number of cards sent rising to 2.52 lakh from 2.40 lakh. The app touched 763,000 downloads as of September 30, it said.
The website offers about 42,000 e-cards in multiple languages covering 3,000 seasonal and everyday categories.
---