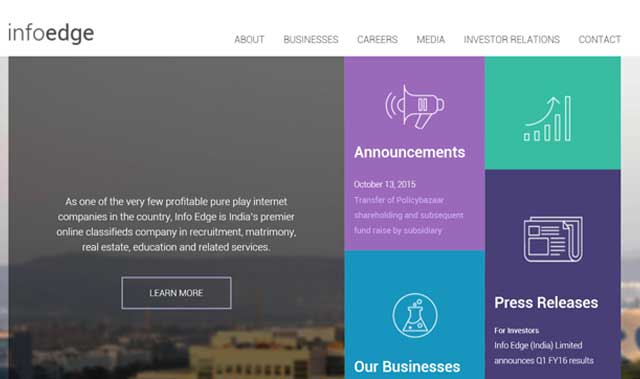 Info Edge (India) Ltd reported flat earnings for the second quarter, as a loss in its 99acres.com property portal offset a profit from its Naukri.com jobs site.
Standalone net profit rose a tad to Rs 33.9 crore for the July-September quarter from Rs. 33.2 crore a year earlier, the company said in a statement. Earnings per share fell to Rs 2.82 from Rs 2.97.
The company's recruitment solutions business, which includes Naukri.com and associated sites, reported revenue of Rs 124.72 crore and profit of Rs 68.21 crore for the quarter.
The real estate portal generated revenue of Rs 27.75 crore in the latest quarter, up from Rs 25.28 crore in the first quarter. Its loss narrowed to Rs 27.21 crore from Rs 36.14 crore from the preceding quarter.
The company drew Rs 44.6 crore from the Rs 750 crore it raised last year through a qualified institutional investment, to invest in 99acres.com.
Education portal Shiksha.com and matrimony site Jeevansathi.com reported Rs 18.12 crore in revenue and Rs 8.34 crore in loss. The company's total net sales grew 18 per cent to Rs 174.1 crore from Rs 147.6 crore.
Higher staff costs as well as advertising and marketing expenses ate into its margins. Staff costs jumped by a fourth to Rs 75.26 crore while advertising and promotion expenses soared 67 per cent to Rs 37.43 crore. Ad expenses contributed 30 per cent of the total expenditure.
Info Edge's 99acres.com competes with a slew of sites including MagicBricks, CommonFloor, Housing and PropTiger. News Corp, the owner of this news website, owns a 30 per cent stake in PropTiger.
---