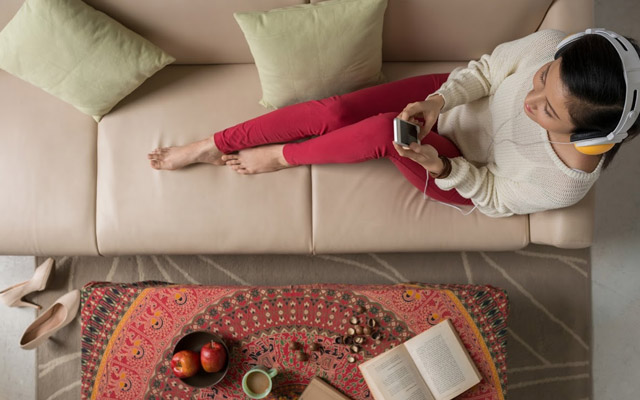 Last month the recorded version of Prime Minister Narendra Modi's radio programme 'Mann Ki Baat' made it to music application Saavn. Users of the app could now listen to the programme in 24 languages. Similarly, when Pakistan based singer Ghulam Ali was forced to cancel his concerts in India, Times Internet Ltd's music app Gaana quickly packaged all his songs under his name and rolled it out for his fans.
Not just Saavn or Gaana, a host of online music streaming apps including Apple Music, Wynk, Rdio, Guvera and Hungama are playing new tunes as they try to hook customers to their respective platforms.
"Digital media consumption pattern has drastically changed since a decade ago when ringtones were expected to boost the music industry's revenues. With improvement in mobile devices technology and internet connectivity, marketers are shifting their business models in tune with the shift of viewer preference towards digital media from traditional media," said Rajat Banerji, senior director, Deloitte India.
Deloitte Touche Tohmatsu India Pvt Ltd's report titled 'Digital Media: Rise of On-demand Content' projects the number of online music users in India to touch 27.3 crore by FY2020. Currently there are 2.7 crore online music users in the country. (See chart)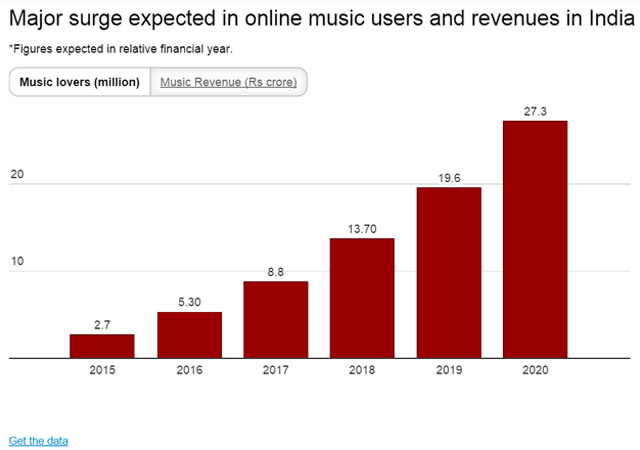 Content runs the show
While some content is available in all the music streaming apps, it is exclusive music which attracts the traffic. After offering free content, music apps are now beefing up premium music line-ups. For instance, in April this year, Hungama Digital Media Entertainment Pvt Ltd tied up with Saregama India Ltd to add over 100 play lists and more than 25 different genres of music classified on the basis of eras, musicians, composers and artists.
Likewise, Gaana.com claims to have expanded its collection of Indian music including its regional catalogue.
"With our partnership with Radio Mirchi we have a better understanding of the pulse of Indian music interests than anyone else," said Pawan Agarwal, business head, Gaana.com. "We also have the largest Indian collection across languages. In fact, music packages such as 'playlists of the hour' have become a cult favorite for our users."
Bang for the buck
Operating a music streaming application costs $40-50 million a year. Of this, $10-20 million is spent on acquiring music royalty. With the Indian consumer prefering free content, music app companies have adopted a 'Freemium' business model. While the app is free to download, users need to pay for certain premium music, propriety tools and virtual goods.
"With India being a very price-sensitive market, in addition to in-app purchases, music apps have launched various subscription models for consumers, which allow them to earn extra money," said Jehil Thakkar, partner and head of media and entertainment practice, KPMG in India, an audit firm.
"On Hungama.com an user can download a song for as less as Re 1 or pay Rs 5 a day to be able to cache songs in the handset for one day," said Siddharth Roy, CEO, Hungama.com. "We also have a subscription plan for Rs 99 which allows users to cache songs for a month and then a Rs 600 plan which gives access to premium content for six months."
Similarly, Gaana+, the premium service from Gaana.com allows subscribers to download unlimited songs. The ad-free experience, is priced as low as Rs 5 a day and Rs 99 for a month.
Bharti Airtel Ltd, which runs OTT music app Wynk, sells two kinds of subscription plans. It runs a service called Wynk Plus at Rs 99 for Android users and at Rs 120 for iPhone users. The service gives access to unlimited in-app song downloads and allows users to play music offline.
For Airtel subscribers, the same service is available for Rs 29 on Android phones and Rs 60 on iPhones, respectively. For Wynk Plus, Airtel charges for streaming and the first time a song is downloaded.
It also runs an all-inclusive plan called Wynk Freedom with unlimited downloads and no additional data charges on streaming or downloading. This service is available to Airtel consumers only in 3G markets at Rs 129.
Even as the industry has seen the entry of several independent over-the-top players, there is still Google's YouTube. While YouTube is essentially a music video player, it is the combination of music and video that gives it an edge. Its recent move to allow users to go offline to watch a video all over again. Industry observers believe that it will take a clever business plan coupled with a strong content strategy for independent players to wrest away customers from YouTube.
"The problem with music apps is that there is a lot of overlap in content as well as users," said Gopa Menon, associate vice president, Isobar, a full service digital marketing agency of Dentsu Aegis Network Ltd.
Media analysts point out that in case of music apps the battle is currently restricted to the top three players – Gaana.com, Hungama.com and Saavn.com.
Even as music app companies try to earn a substantial chunk of their revenue from subscription, firms are dependent on advertising for free-to-use content. As in television, it is the number of eyeballs that determine how high ad rates can climb.
"If an advertiser is looking at reaching out to the masses, buying an inventory on the top two-three music apps does the job," said Isobar's Menon. "But if one is targetting a niche consumer segment, for instance, the more affluent English speaking youth, then a music app such as Guvera is used."
While a banner or a ticker on the top three popular apps such as Gaana.com, Hungama.com and Saavn.com costs Rs 200-250 cost per impression (CPM), Guvera sells its entire advertising inventory including the banner on the first screen for Rs 3-4 lakh a month.
A banner on the first screen of the top three music apps for a day costs Rs 4-5 lakh.
Advertisers, however, say companies aren't creating enough innovative advertising opportunities. As Dhruv Chopra, chief marketing officer, CarWale.com puts it, an user generally plugs in her headphone and then gets lost in the world of music. So these companies need to look beyond the obvious formats of digital advertising such as a banner or a ticker.
"For example, in case of CarWale.com, we would like to partner at the content level by creating play lists such as 'top 10 driving songs or '50 best songs from '80s' clubbed under one play list which one can listen to while driving," he explained.
Music for all ears
With enough firepower, music apps next face the task of ensuring that there are enough listeners on the platform. From tying up with mobile handset makers to signing pacts with telecom companies, music app players have left no stone unturned in ensuring their app lands in the customer's handset.
For example, Hungama claims to partner almost all the handset makers. "From HTC to Sony, Lava Mobile and Videocon phones, we have partnerships with all the major handset makers. Our app is embedded in 25-30 million new handsets every year," said Hungama's Roy.
The app claims to have 62 million active users till the end of September 2015.
Similarly, Gaana.com raised an undisclosed amount from mobile handset maker Micromax Informatics Ltd. With this, Micromax will pre-install Gaana across its range of smartphones.
For Airtel, which claims that its Wynk Music has crossed 12 million downloads in the last one year of its launch, the combination of data and music seems to have played a key role in getting users.
"The recent announcement of bundling Wynk Music subscription worth Rs 99 with data plans from Airtel will go a long way in making music affordable and also help curb piracy," said Kartik Sheth, CEO, Wynk Music.
Advertising and marketing too has its own benefits. While Times Internet Ltd has relied on its own network including Bennett, Coleman and Company Ltd owned national dailies such as The Times of India and The Economic Times, in addition to Times Network owned channels such as Times Now, ET Now and Movies Now to its out-of-home (OOH) outfit Times OOH, to promote Gaana.com, Bharti Airtel launched a television campaign last year for Wynk.
"We aim to make Gaana the default music experience for our users. With that goal, we are aggressively utilising various channels to drive adoption and engagement, including strategic partnerships, digital marketing, above-the-line (ATL) and social media. Also we extensively use digital media for brand building and growth," added Agarwal of Gaana.com.
Roy of Hungama.com said that as a majority of its users reside in the online world, the company spends more on advertising in the digital world.
With more and more Indians going online, music app firms believe this is the first wave of consumers who have joined the group and many more are expected to sign up in the near future.
Industry observers point out that the success of streaming apps – whether audio or video – largely depends on two factors. Reaching break-even will take at least five years. "Even as these apps have managed to gather some followers, ultimately the success of these apps will depend on internet connectivity and a drop in data prices by telecom companies," added Thakkar of KPMG in India.
Music app players are getting ready for the long haul.
---