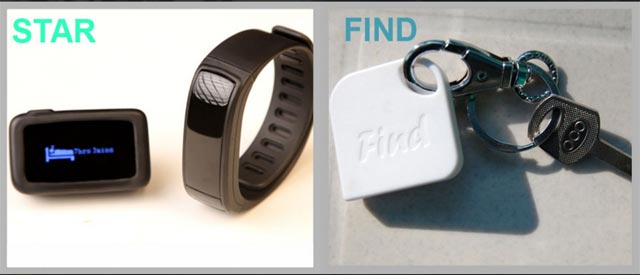 Belgaum based Sensegiz Technologies Pvt Ltd, a hardware startup that manufactures wearable technology devices, has raised $500,000 (around Rs 3.31 crore) in pre-Series A funding from Karnataka Semiconductor Venture Capital Fund (KARSEMVEN Fund).
"The funds will be used for new product development, marketing initiatives and expanding and scaling our operations," Abhishek Latthe, CEO of Sensegiz, told Techcircle.in.
In 2014, Sensegiz had raised $47,000 from online crowdsourced funding platform Kickstarter.
Founded in 2013 by Abhishek Latthe, Sensegiz has its susbsidiaries in the US and Ireland which take care of marketing and sales. With the new round of funding, the company which was earlier focussing on the overseas market, will also look at expanding its Indian operations.
"The company's core product development and engineering team is housed in India and the Indian team of Sensegiz currently numbers 14." Latthe told Techcircle. "Our products are manufactured in Mysore."
KARSEMVEN is a Securities and Exchange Board of India (Sebi) registered venture capital fund with a target corpus of Rs 96.15 crore. The fund makes investments in ventures catering to semiconductors, electronics system design and manufacturing (ESDM), embedded systems and such other allied sectors within the state of Karnataka.
"Sensegiz did its sourcing, assembly, research, all out of Karnataka and has a proven global product. This was a right fit for us," Manish Kumar B, assistant VP at Karnataka Information Technology Venture Capital Fund (KITVEN), the umbrella fund of KARSEMVEN, had told The Economic Times earlier.
The current corpus of the fund is Rs 64.40 crore and KARSEMVEN prefers equity as the preferred form of investment. In this investment, KARSEMVEN has picked up convertible preference shares of Sensegiz as part of the transaction.
Queries sent by Techcircle to KARSEMVEN did not elicit any response at the time of filing this report.
KARSEMVEN has earlier invested in Graphene Semiconductors Pvt Ltd and Prodigy Technovations (P) Ltd.
Sensegiz has two products – STAR and FIND. The STAR is a wearable smart band that can be clipped to clothing or worn as a band. It triggers an automatic alarm on a friend's phone, connected via Bluetooth, if the user has a crash/fall/emergency. It has features such as panic button, fitness tracker and can ascertain the quality of sleep. It can be used to control phone functions and can display phone related notifications on its screen.
The other device, FIND, is a track-and-find Bluetooth tag which can be used to locate missing objects such as keys, bags, pets, laptops and phones via a smartphone app.
According to Latthe, the company has sold 20,000 units of FIND and 3000 units of STAR globally. Its products are especially popular in the US and Japan. Latthe said it will be expanding its operations in Canada, UK, Germany, France, South America and the Middle East.
Kerala-based wearable device maker Fin Robotics Inc this month received an undisclosed amount of investment from Keyur Patel, managing partner of US-based Fuse Capital Inc.
---