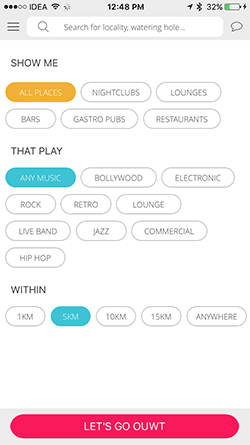 Mumbai-based Yagerbomb Media Pvt Ltd, which operates nightlife discovery platform OUWT, has raised $150,000 (around Rs 1 crore) from a group of undisclosed angel investors.
Prateek Lal, founder of OUWT, told Techcircle.in that the money raised will be used to expand its operations and venture into other cities. Currently OUWT is operational in Mumbai where it lists about 300 venues.
By December-end, it will start operations in Pune and Bangalore. As part of its expansion plans, OUWT will ramp up its 12-member staff and strengthen its sales vertical.
OUWT is a GPS-enabled app that allows users to discover venues such as lounges, bars, nightclubs, gastropubs and restaurants. The app also allows users to search for hangout destinations based on the type of music played.
The app compares prices of alcohol available at venues located in the vicinity of the looked-up destination. A dedicated section lists late-night food delivery eatouts with OUWT-negotiated deals and offers.
"OUWT is a re-discovery platform which uses unique data-points as well as a strong social engagement model to help users find places that suite their taste using a host of filters. Some of the data points are unique to us," said Lal.
OUWT's data collection team members go to each of these venues periodically to ensure accuracy of information to the users.
"We give real-time updates about what is exactly happening in a destination and the type of music being played at the venue," said Lal.
The app went live commercially in October and is available on Android and iOS platforms. The company claims that the app has witnessed 3000 downloads since its launch.
OUWT is revenue positive with some of the venues listed on its platform paying for its services. It plans to have an additional revenue stream via social networking features, geofencing and advertising through tie-ups with brands. However, the company refused to divulge further details on this.
The founding team includes Shreyas Rajagopal, an IIM-Calcutta alumna who was earlier working with Kotak Private Equity, and Yuvraj Bhalla, who was earlier senior project leader at Trine Games. Rajagopal heads the data team at OUWT while Bhalla takes care of the technology end. Lal was earlier at DBS Bank.
OUWT will compete with the likes of Guestlist and Happitoo in Mumbai and Instabounce in Delhi besides a handful of others in this niche space.
In October, Mumbai-based FNB City Media Pvt Ltd, which runs the hyperlocal nightlife mobile app Happitoo, raised Rs 50 lakh (nearly $77,000) in angel funding.
---