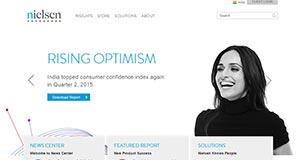 In a move to provide the media industry with more fire power, market research company Nielsen India Pvt Ltd, has launched its digital advertising measurement solution, Nielsen Digital Ad Ratings.
The measurement tool provides measurement data and analytics on the impact of various advertising formats including display, banner and video ads across devices. The tool provides measurement data in the form of gross rating point.
Viewers are categorised on the basis of gender and age.
"Digital is fueling growth in brand advertising. The new product stands to transform the advertising landscape by bringing standardisation and accountability, and helping advertisers and agencies gauge return on investment for every rupee they spend online," said Prashant Singh, managing director, Nielsen India.
At present, advertisers and agencies tracking the reach of their digital campaigns use metrics such as click-through rates, conversion rates and cost per video views. The market search company claims that the new product which has access to Facebook database by demography will enable publishers to more accurately deliver advertising messages to audiences.
Nielsen India's product has been launched at a time when its joint venture company TAM Media Research Pvt Ltd has rolled out its TeleWeb Audience Measurement tool in conjunction with IMRB International recently. The service provides data on the consumption pattern of content across TV and online platforms such as desktop and mobile websites, mobile applications and YouTube across various devices.
TAM Media Research is a joint venture between Nielsen India and Kantar Market Research
---