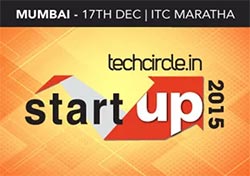 Are you at the helm of a startup with innovative ideas and a viable business proposition? Are you looking for a platform to share your ideas and get noticed to take your startup forward? If the answer is yes, then the Mumbai edition of Techcircle Startup, the flagship event for the startup ecosystem in India, will provide you an opportunity to do so through Techcircle Showcase.
Techcircle Showcase, powered by NASSCOM 10K Startups, is a curated platform that enables a set of handpicked innovative startups to make an elevator pitch to a select jury of angel investors, a houseful of VCs and fellow entrepreneurs. This is also an opportunity for early-stage, pre-revenue, startups to grab investor attention. Click here to send your nomination or write to kanika@vccircle.com.
Adding to the excitement of participants, the event will also see tailor-made platforms to connect investors and entrepreneurs. These would include Startup Walkabouts, Startup Fair, Spot Hire, Techcircle Showcase and Entrepreneur-Investor meet-up. For more details, click here.
The event will bring together early-stage startups, current and potential investors, angels, seed funds, incubators, accelerators and mentors, along with many of India's most active VC and PE funds.
The event will also include panel discussions from an impressive line-up of speakers on the following topics:
Food-tech: Scale up or go under?
 E-groceries: Is there life beyond introductory discounts?
Fin-Tech: Technology and the unbanked.
Hyperlocal services: Can it go beyond groceries/food?
Digital content: The key behind creating sticky content.
Budget stays: Mapping the sweet spot.
Is angel/Series A investment the benchmark of success?
Salaam Bombay: Why stay in Mumbai, despite the likes of Quikr.
Surviving the funding slowdown.
For the full agenda,
click here
.
To participate, register now or write to Kanika at register@vccircle.com/ or call 0120-4171111. For branding and sponsorship opportunities, write to Nandini at nandini.a@vccircle.com. Send us your views, ideas and suggestions on Twitter; use our event hashtag: #tcstartup.
---