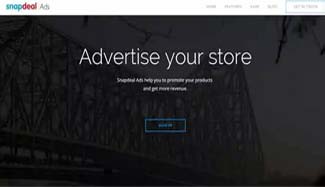 Online marketplace Snapdeal has launched its native advertising services platform to help sellers increase revenue through targeted ads.
Developed in-house, Snapdeal Ads will allow sellers to reach customers through product advertisements, the company said in a press release.
Snapdeal Ads will strengthen discovery tools on the marketplace, providing multiple touch points for customer-seller engagement. The advertising tools will help sellers boost revenue as more users discover their products, said Anand Chandrasekaran, chief product officer at Snapdeal.
The platform features a self-service panel integrated into the seller platform where sellers can purchase ads and begin promotions. Snapdeal Ads will provide campaign analytics, allowing sellers to build targeted campaigns, measure impact and return on investment on a real-time basis.
Starting next week, the ad panel will be rolled out to sellers in a phased manner.
A minimum of Rs 1,000 is required to start ads on Snapdeal Ads and sellers can pay using their existing cash on delivery balance. Payment through credit cards will be available soon, according to information available on Snapdeal's website. Snapdeal Ads charges on pay-per-click basis.
Snapdeal claims the new product will be a cost-effective method to boost business for a majority of small and medium businesses. Large sellers and brands who wish to develop more elaborate campaigns have the option of going for a comprehensive self-serve platform that offers more customised features, it said.
Snapdeal's bigger rival Flipkart also offers a similar service. Globally, Amazon, eBay and Alibaba also provide advertising platforms to sellers.
---