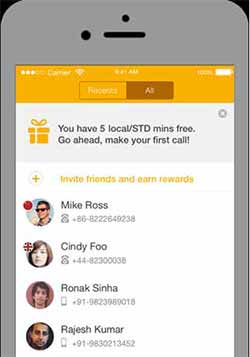 Ringo has suspended its recently launched low-cost domestic calling service after some telecom carriers allegedly blocked the app from functioning on their networks. The service has been unavailable since Monday.
"As it stands, until we manage to get an intervention from relevant regulatory authorities to unblock our service, none of our domestic calls are going through," Bhavin Turakhia, CEO of Ringo, said in a blog posting.
Ringo, better known for facilitating cheap international calls, sought to shake up the domestic calls market by unveiling voice calls at 19 paise per minute. The company claimed its pricing was 90 per cent lower than the standard rate offered by most telecom operators. The company achieves this by purchasing voice minutes in bulk from aggregators such as Tata Communications, British Telecom and Verizon at lower prices. It uses a telecom operator network for connecting calls. It doesn't use a data connection, unlike several calling apps.
"The service is a fully legal, compliant service…however, in spite of being fully compliant with the law, the service allegedly seems to have been blocked as of 30th November without any notice to our service providers," Turakhia said.
If the issue is not resolved within two-three days, the company would refund the un-used balance of users, it said. However, users can still make international calls.
Serial entrepreneur Turakhia is the founder and CEO of Directi Group, part of which was acquired by US-based Endurance International Group last year. He founded Directi in 1998 along with his brother Divyank, when he was a teenager.
Voice revenue of telecom operators has been under pressure for several quarters now as subscribers increasingly use messaging apps such as WhatsApp, Hike and others, even for voice calls.
In a note released last week, Credit Suisse said: "While we are already concerned on the impact from competition in traditional telco networks (Reliance Jio) and OTT (over the top) voice players, players like Ringo present a new threat to the sector in our view."
The freebies and discounts offered by these players are similar to the customer acquisition tactics employed by e-commerce ventures, it said.
---