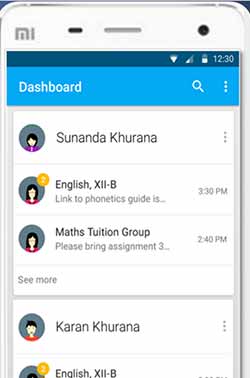 New Delhi-based Eckovation Solutions Pvt Ltd, which runs a social learning platform for students, has raised an undisclosed amount in angel funding from Chandigarh Angel Network (CAN).
The startup will utilise the money raised to expand its team, strengthen the technology back-end and up marketing, Ritesh Singh, co-founder and CEO of Eckovation, said.
This is CAN's first angel investment since it was incorporated in September.
"Our efforts towards building a social learning platform to bring all the educators and other stakeholders of education on one platform will propel the growth of Digital India," Singh told Techcircle.in.
Eckovation connects teachers, parents and students over an online/mobile platform. It is free for users to access, as monetisation would happen through targeted advertising. Its Android app was launched in June.
Eckovation was co-founded by Singh and Akshat Goel in March last year. Goel is an IIT-Delhi graduate and was earlier working with gaming major DeNA in Japan. Singh was associated with Bosch R&D and Avanti before co-floating Eckovation.
The platform currently hosts about 35,000 students and 400 teachers. By March 2016, Eckovation plans to reach 200,000 users, Singh added.
Eckovation competes with online players such as Knit, Flinnt and Mappr.
In September, Delhi-based education technology firm Wincourse acquired 85 per cent stake in Mappr, a social learning platform where students can share notes and interact with teachers.
Earlier this year, Knit secured an undisclosed amount in funding from a group of angel investors including Rohit Jain of Mexus Education and Amit Rambhia of Vardhaman Technologies.
The education technology space has been generating tremendous interest among investors.
Prozo.com, an online marketplace for buying and selling study material, secured seed funding of $205,000 (Rs 1.37 crore) from a group of investors three months back. US-based Coursera Inc, an education technology company that partners with universities to offer courses online, recently secured $49.5 million in the first closing of Series C funding from New Enterprise Associates (NEA), Times Internet (TIL) and others investors.
CAN aims to invest between Rs 10 lakh and Rs 2 crore in fledgling tech firms across sectors such as education, healthcare and finance. It may put money in four more startups before the financial year ends.
---