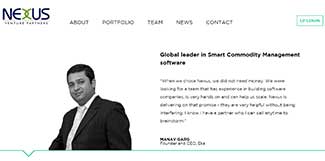 Nexus Venture Partners has raised $450 million (about Rs 3,000 crore) in a new fund, the venture capital firm said in a statement.
The fund, Nexus Ventures IV, is the largest for the VC firm and takes the firm's total capital under management to over $1 billion.
Most of the capital commitment for the fourth fund came from repeat investors, it said. Investors included endowments, foundations, and financial institutions across North America, Europe and Asia.
Nexus invests in sectors including enterprise technology, consumer and business services. The VC firm said it will continue to focus on seed and early-stage companies and will invest in technology and data-led businesses focusing on consumer retail, financial services, healthcare, and education markets, as well as in enterprise technologies that are enhancing productivity and lowering time to market.
The early-stage growth investor has backed companies like Craftsvilla, OLX, ShopClues, Snapdeal, Stayzilla, Delhivery, Netmagic, RoadRunnr and Suminter. Since the firm started in 2006, it has backed more than 60 companies. This included a $12 million investment in 2012 in online marketplace Snapdeal, which subsequently raised large amounts of funds.
Prior to the fourth fund, the VC firm raised $270 million in its third fund in 2012, $220 million in its second fund in 2008 and $100 million in its maiden fund the year before.
VC firms have grown large over the years and the growing attraction towards traditionally VC-funded sectors like technology has led to some large fund raises in the recent past. Sequoia Capital, another active VC player in India, has grown its assets under management to about $2 billion. It is looking to raise $800 million in a new India-focused fund.
Another active VC firm Accel Partners raised $305 million for its new India-focused fund while SAIF Partners raised $350 million for an India-dedicated fund. Also, Kalaari Capital is looking to raise $250 million fund whereas IDG Ventures India raised an equal amount last year.
Another home-grown fund, WestBridge Capital, recently hit a corpus of $1.4 billion, reflecting the confidence foreign limited partners have in the country.
---