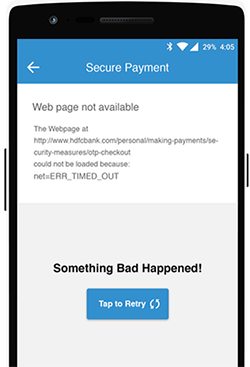 PayU Payments Pvt Ltd, a digital payment solutions company, has introduced a technology it claims will make mobile payments through debit or credit cards easier but which could raise regulatory concerns.
The company claims that the 'one tap' technology from PayUbiz, its online payments gateway, ensures the consumers won't have to put in their 16-digit debit or credit card number for every transaction. The users won't also have to key in the three-digit card verification value for every transaction, the company says.
While the company says the technology will bring down failure rates for mobile transactions, a lot will depend on the Reserve Bank of India's views.
RBI rules stipulate that all card transactions should go through three levels of authentication – card number, card verification value (CVV), and a secure password.
The central bank earlier had reservations regarding saving of credit card information, especially the CVV, by payment platforms. US-based taxi-hailing app Uber had got into a controversy for saving credit card information and conducting transactions without second-stage authentication. PayUbiz claims to be compliant with RBI rules.
The company also claims it is seeking a patent on the technology. However, US-based PayPal had rolled out one-touch payment for global markets in August while the technology has already been operational across the US.
The Indian company says one tap will be available on PayUmoney and food-ordering website Twigly for now. "We are working with other e-commerce companies to get this live as soon as possible on their platforms," said Rahul Kothari, business head at PayUbiz. He added that some other apps where users will experience it in next few weeks are Peppertap, Redbus, Goibibo, Grofers, Big Basket, Just Dial and Xiaomi.
PayU India, which is backed by Naspers, is led by Nitin Gupta and Shailaz Nag. The company claims it caters to 80 of the top 100 e-commerce merchants in India and has over 1,00,000 merchants on its platform.
The company recently appointed Snapdeal's Akash Moondhra as its CFO. Also, McKinsey & Co's Raj Kamal joined the company as vice president of strategy while Sanjeev Sandhu was appointed as business head of PayU Global's technology solutions business. It had also appointed Prabhakar Tiwari as chief marketing officer.
---