Amazon overtakes Flipkart as most visited Indian e-com site: comScore

E-commerce giant Amazon Inc said on Monday it has become the most visited e-commerce site in India beating local rival Flipkart in the month of October citing comScore data.
It said Amazon.in clocked 30 million unique visitors during the month ahead of Flipkart.com, Jabong.com and Snapdeal.com. A year ago Rocket Internet-incubated online fashion retailer Jabong was the most visited Indian e-commerce site followed by Flipkart, Snapdeal and Amazon.
The comScore data shows Jabong lost the pole position in eyeballs game at the beginning of this year to Flipkart and soon thereafter slipped below Amazon. It was around the same time that Amazon scrapped a proposed deal to buy Jabong.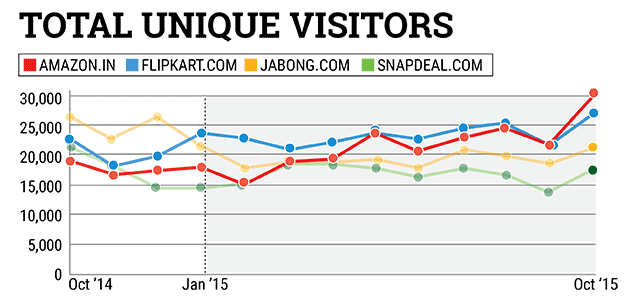 Although the prime parameter for e-commerce firms remains the value of products sold on their platforms, unique visitors reflects interest and engagement level. It also dictates one of the revenue streams for e-commerce firms, namely paid ads by merchants.
Amazon did not say if the data only refers to web traffic or includes mobile app. Indeed, the e-commerce traffic stats data did not include Myntra, a separate online fashion retailer now owned by Flipkart and a prime competitor of Jabong. Myntra that had gone app-only, recently added a mobile version of its platform to push usage.

Separate email queries to Flipkart and Snapdeal on their official position on the stats cited by Amazon did not elicit a response.
In an email sent to its customers, Amazon founder and CEO Jeff Bezos said, "Just two and a half years from our launch, Amazon.in has become the most visited e-commerce site in India. This customer response continues to amaze and energise us. To celebrate and thank customers for their confidence in us, we are happy to announce an Amazon.in gift card of Rs 200 for all customers who shop on Amazon.in today."
Amazon India, Flipkart, Snapdeal and a host of online shopping sites made huge investments on mass media during the festive season in the run up to Diwali. This was to gain an upper hand in the intensely competitive e-commerce market as also to coaxe consumers to pre-pone their purchases. Offline retailers typically hang offers closer to Diwali.

All the three top horizontal e-commerce marketplaces had launched pre-Diwali flash sale in October, weeks before the actual festival in November.
---