'Look, people watch porn, and people get hungry; so stop judging me.' That's a straight (no pun intended) marketer's thought process for reaching out to the buzzing late-night food delivery space.
But India's best known food-tech startup Zomato saw a more profound reasoning to put that to test. Put simply, the economics of tapping on to a niche target audience.
In a blog post on Tuesday, it reasoned why it did what it did: "Highly optimised Adwords, Facebook, and Twitter ad campaigns are commoditised and therefore quite expensive. The alternative seemed almost obvious when someone said 'Hey we should try advertising on porn sites'."
The firm noted that India ranks #5 in terms of most daily visitors to Pornhub (the world's biggest porn site network). Also, outside of Google, Facebook, Yahoo, and e-commerce sites, Xvideos is one of India's top visited sites and the average time spent on the site by Indians is around eight minutes.
The restaurant review and online food ordering startup, which became the latest Indian startup to join the exclusive club of 'unicorn' or a startup with $1 billion dollar valuation but has been facing headwinds lately, floated ads on pornographic sites. And these are not general ads on porn sites fed by Google Adwords. Zomato created cheeky ads to get eyeballs.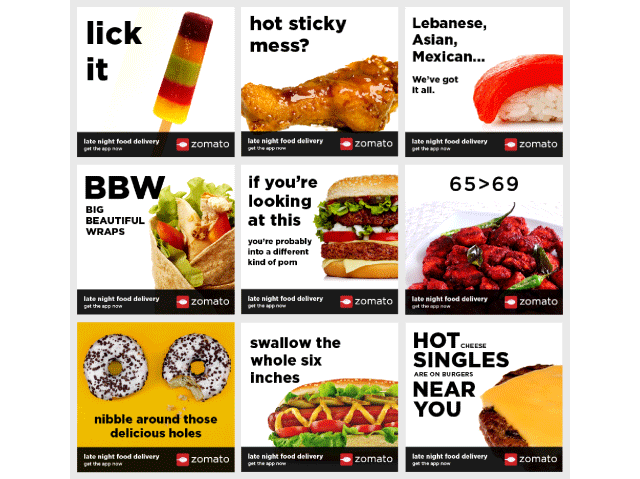 How it did it and what it found
Zomato created two teams: one to track the ad networks serving porn sites (Traffic Junky and Traffic Factory) and another for the creatives. As the blog post reads, "The goal was clear – get people to click."
It ran these ads on desktop as well as mobile sites, between 11 pm and 4 am – when late-night delivery restaurants are at their busiest. These ads were placed on video landing pages, just to the right of the video window.
Zomato found out that advertising on porn sites costs very little money, and is significantly cheaper than other platforms.

A week into the campaign, it found people in Delhi NCR clicked on these banners the most on desktops, at an average click-through rate (CTR) of 0.12 per cent while Bangalore came a close second with an average CTR of 0.11 per cent. The campaign's average CTR so far is at 0.22 per cent, Zomato said.
Zomato also shared other insights like how the highest number of clicks for such ads in Delhi came from around the Hauz Khas area in the southern part of the city (also home to IIT Delhi!). In Bangalore, Koramangala and in Mumbai, Powai (both techie hubs) recorded the most clicks.
Its "BBW/Big Beautiful Wraps" ad (look at the infographic above) was the best performing desktop ad while the "Hot Sticky Mess" and "Hot Singles" ads also attracted attention.
The blog post signed off with the takeaway that 'advertising on a porn site is a great idea if ridiculously low CPCs turn you on'. The firm added that it's quite pleased with the number of clicks and app installs driven by these ads so far and promised to share stats if these installs converted into food orders.
That said, Zomato may not be the first such startup to try this out. The blog post noted that US-based Eat24 (acquired by Yelp early this year) has possibly tried a similar trick. There's one flip side to this, however. With the government banning several hundreds of popular porn sites a few months ago and some (not all) ISPs including government run MTNL and BSNL among a few others blocking access to such content, reaching a set of prospective consumers is not as easy as before. That's some food for thought.
---