San Francisco-based digital music service Rdio is shutting down its service worldwide from December 22. The announcement comes just a month after music streaming service Pandora Media Inc agreed to acquire key technology assets and employees of the struggling Rdio for $75 million.
On its website, Rdio wrote:
Goodbye ... for now. Rdio is being acquired, and the service is shutting down worldwide on December 22. We're excited to bring great music experiences to even more listeners in the future as part of the Pandora team.... We know you want to find a home for that music, so we're providing ways for you to take it with you. After logging in with your Rdio account below, you will be able to download an archive of your collection and take a look back at your life on Rdio.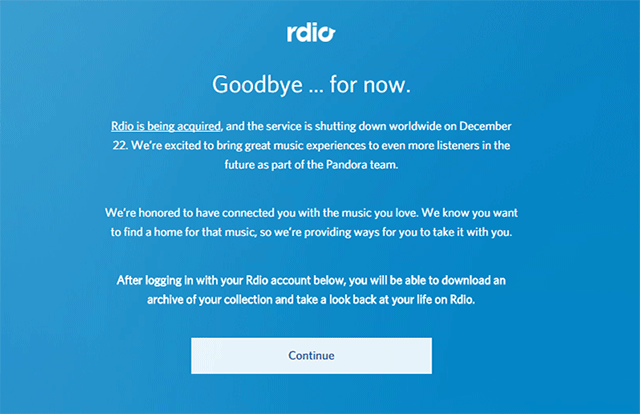 Until December 22, subscribers using the "Farewell" feature can look back at their activity and export data such as playlists, etc.
Launched in August 2010, Rdio was founded by Janus Friis, co-creator of Skype. The service was available in around 85 countries, including India. The company made its entry into the Indian market through the acquisition of Indian social music streaming venture Dhingana last year.
In 2014, the firm claimed to have on-demand access to over 20 million songs. It connected people with music and helps them search/instantly play any song, album, artist or playlist.
Operating a music streaming application costs $40-50 million a year. Of this, $10-20 million is spent on music royalty. Rdio competed with global rivals such as Spotify and Pandora. In India, its rivals were Gaana, Saavn, Hungama and Wynk Music. Spotify, the market leader in the digital music space, had about 20 million paid subscribers as of June this year. Spotify is closely followed by Apple Music with 6.5 million paid subscribers as of October.
---