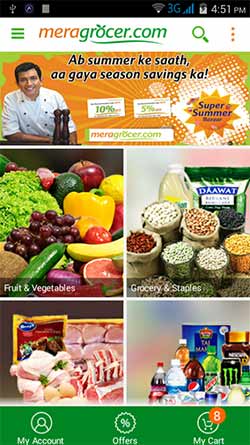 RP-Sanjiv Goenka Group's privately held multi format retailer Spencer's Retail Ltd has acquired Delhi-based startup Omni-Present Retail India Pvt Ltd, which operates the online grocery store Meragrocer.com for an undisclosed sum.
This allows Spencer's to enter the e-commerce sector following in the footsteps of some other large groups. Early this year Godrej and Mahindra groups, who run their separate offline stores, had acquired e-commerce startups to add a virtual retail presence.
Godrej Group's hybrid retailer Nature's Basket, had acqui-hired online grocery and daily essentials shopping store Ekstop.com.
Prior to that, Mahindra Group, which runs one of the country's largest offline stores chain for baby and infant products, acquired Mumbai-based startup Nest Childcare Services Pvt Ltd, which runs e-commerce site for baby related products under Babyoye.com.
For Spencer's a mid-sized retail firm that is part of the Kolkata-based diversified business group's listed power utility firm CESC Ltd, this would open an omni channel presence to reach out to sellers.
Shashwat Goenka, who heads Spencer's Retail and is the son of the group chairman Sanjiv Goenka, said that the group is targeting revenues of Rs 500 crore from the e-commerce business over the next two to three years.
He hinted that the firm may rebrand Meragrocer to Spencer's in the future, while adding that the portal would eventually stock several other products that the group's physical outlets already sells.
Founded in July 2011 by Saurabh Chadha and Manoj Kumar in 2011, Meragrocer is an online convenience store that currently operates in Delhi-NCR. Currently it sells food and grocery items besides some household and personal care products.
In July, The Economic Times had reported that the firm is in talks to raise $10 million for its second round of funding. Prior to this, the company received $7 million (nearly Rs 45 crore) from C Cube, Brand Capital and other angel investors.
Spencer's currently operates 135 stores (including about 33 large format stores) across 40 cities in India and is expecting to grow at  a rate of 10-15 per cent this fiscal.
With assets close to Rs 31,000 crore, the RP-Sanjiv Goenka Group has interests across diverse business sectors. It has employee strength of more than 50,000. Over the next five years, the group is expected to invest more than $3 billion across its various business projects, according to the information available on its website.
RP-Sanjiv Goenka Group had been in the final stage of negotiations to clinch three differentacquisitions in the media, retail and technology sectors by the end of next month and this deal marks the culmination for one of them.
---