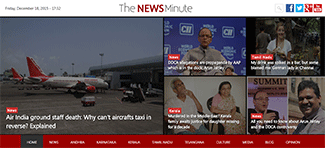 After raising funds in an angel round, Bangalore-based TheNewsMinute.com, an online news startup which focuses on South India, is readying for the next chase. Only this time it will run after advertisers to bring in ad revenue.
Speaking to VCCircle, Vignesh Vellore, co-founder, TheNewsMinute.com (TNM), said, "Obviously ads will play a major part of the revenue. We also have plans to look for sponsored content along with native advertising."
However, media analysts point out it may be a while before the online news site actually starts earning revenue. The site has no advertisements yet.
Industry observers say that matters most is attracting eyeballs. That can only be achieved in the internet world through affiliations and partnerships. From partnering telecommunications service providers to social media platforms, there are multiple ways to get readership. After all, international websites such as Business Insider and Vox, which also operate in the social viral news segment, have succeeded only after attaining a certain scale.
Vellore declined to divulge details about the traffic the site generates every month. However, he said the site has no plans to charge readers for subscription.
Run by Spunklane Media Pvt Ltd, TheNewsMinute.com has raised an angel round from Raghav Bahl and Ritu Kapur-led Quintillion Media, publishers of TheQuint.com, a digital content platform. The news was first reported in VCCircle.
Refusing to divulge details on the exact equity the startup has offloaded to raise funds, Vellore said that it had discussions with other private equity investors as well before joining hands with Quintillion. "In those cases we felt that we would need to compromise on the kind of content we are putting out, while Quint gave us the freedom," he added.
With the deal, both the content platforms will also get to share resources as well content. But TheNewsMinute.com claims that its primary focus will be to create its own content to maintain uniqueness. "In the last few months, we have successfully managed to put many of our stories in the larger news narratives and daily news agendas of even mainstream media organisations. We have been able to break a lot of relevant stories from the Southern states," explained Vellore.
Post the funding, the online news site claims to have created a video strategy. Its investors' online site, TheQuint.com, has already started producing videos and had covered the recent Bihar Assembly elections.
What's more, the news site which does not have a mobile application, has no plans to introduce one in the future. "As of now, we are only focused towards mobile/web. The focus is on growing the audience leveraging on social media rather than have an app strategy. We will aim at optimising our site so that an user has a great experience on the website as well as mobile site," said Vellore.
TheNewsMinute was started in 2014 by journalists Chitra Subramaniam, Dhanya Rajendran and Vignesh Vellore.
---