Jabong's transaction growth just halted as it cut losses last quarter

Rocket Internet-incubated fashion e-commerce venture Jabong has hit a roadblock with the number of orders on its site remaining flat in the third quarter ended September 30, 2015 over the year-ago period.
Although it managed to grow the value of goods sold during the same period—reflecting a rise in basket size of products purchased by consumers—the near static purchase transactions on its site shows how the firm is facing a challenge as it slowly pulls down discounts to trim losses.
Indeed, this is a factor to watch out for most e-commerce firms in the country who have used discounting, largely backed by venture funding, to propel growth at a breakneck speed. Their fast paced growth in user transactions in turn had attracted more capital at ever higher valuations, stoking fears of a bubble.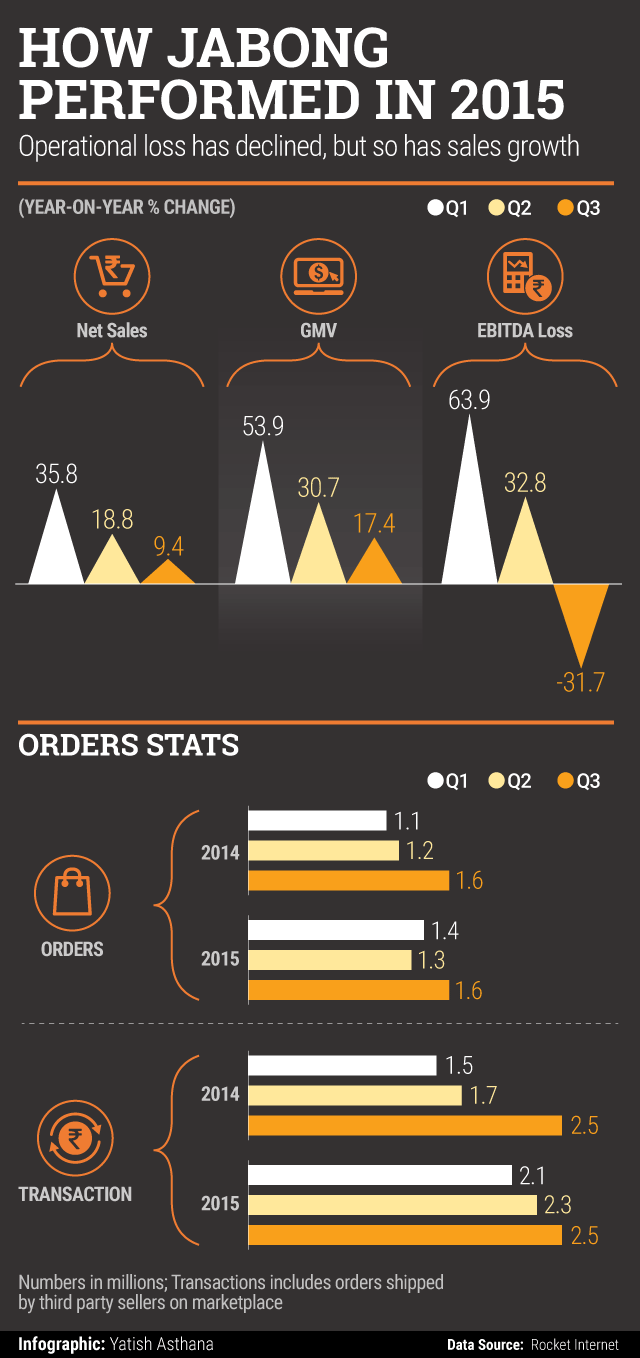 What should worry Jabong in particular is that the number of orders and transactions has remained flat in Q3 over the year-ago period. Although it managed to pull up its socks in the quarter ended September 30 with a sequential growth after seeing a decline in number of orders in Q2, at 1.6 million or around 17,400 orders a day, it just managed to match up to the previous year's level.
Ditto transactions, which also include products sold by third-party sellers on its marketplace.
To be fair, the firm managed to generate higher value from the sales. Net sales rose, albeit at a much slower pace and are now down to single digits.

GMV or gross merchandise value which includes products sold by other merchants through Jabong.com, before discounts, still rose by a healthy 17.45 per cent to Rs 405.8 crore last quarter. But the growth rate was half that of Q2 and a third of the pace recorded in Q1.
What is noteworthy, however, is that the firm did manage to put some brake on the runaway losses it has been reporting. Gross loss more than halved last quarter to Rs 24 crore while EBITDA loss adjusted for share based compensation was down by a third.
A Jabong spokesperson disputed the numbers disclosed by Rocket Internet and claimed its marketplace shipments rose 15 per cent in Q3 over the year-ago period.

Referring to the improvement in bottomline, the spokesperson added: "As we transition from being a startup to a more professionally run, profitable company, we have been continuously introspecting to bring in efficiencies in everything we do, and this is showing in our numbers."
"More than just discounting, we believe it has been possible due to a lot of other creative elements such as better curation and assortment, marketing and promotions. We have also launched several top global brands in India exclusively such as Topshop, Topman, Burton, Tom Tailor, etc. which have also helped increase affinity to Jabong," the spokesperson added and gave an optimistic outlook for growth in the current quarter over Q4 2014.
A separate email to Rocket Internet spokesperson went unanswered.

Jabong, which competes with Flipkart owned Myntra and other horizontal and lifestyle e-commerce players, recently saw a slew of top management changes with founding team members moving out.
It had recently hired Sanjeev Mohanty as CEO.
Jabong has also been on the radar of other e-commerce companies. Last November, as first reported by VCCircle, e-commerce giant Amazon.com, Inc was in talks to acquire Jabong where the asking valuation was $1.1-1.2 billion. The deal was called off due to a mismatch in valuation by the prospective buyer and Jabong's shareholders.

(The article has been updated to incorporate Jabong's official comment.)
---