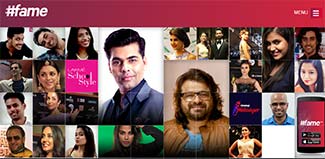 Fame Digital Pvt Ltd, which runs talent-led digital video platform #fame, is planning to go regional by introducing Tamil, Bengali and Telugu language feeds. Additionally, the company plans to open production studios in Delhi, Hyderabad, Kolkata, and Chennai in its effort to facilitate independent content creators. The studios will be set up over the next 18 months. The company claims to have one such centre in Mumbai already.
"The idea behind going regional is to get more and more content creators on to the platform. This move would also help us in tracking content creators who tend to do well on the app and provide them with wherewithal to produce more content," Puneet Johar, CEO, To The New Ventures, told VCCircle.
Singapore-based digital firm To The New Ventures Pte Ltd (TTN Ventures) is an existing investor and majority stakeholder in Fame Digital. TTN Ventures is backed by Four Cross Media Services, a firm co-founded by a group of professionals including Sanjiv Gupta, former chief of Coca Cola India, apart from Malaysian media group Astro. TTN Ventures' other businesses are To The New Digital, American Swan, Blogmint and ThoughtBuzz.
Johar claims that #fame has one million active users and the number is expected to reach 1.4 million by end of December 2015. Fame isn't the only digital content platform to create production studios for content creators. Google Inc will be opening YouTube Space, a production studio, early next year in collaboration with Whistling Woods International Ltd, a film institute owned by Bollywood film-maker Subhash Ghai.
Fame, which had earlier announced its plans for international expansion, has started the process with a soft launch of the app in Indonesia. It plans to launch the app next in Bangkok early next year, followed by Malaysia and Dubai.
Interestingly, the digital media company is betting big on the newly introduced gamification feature. The company will be launching the first season of Fame Talent League from January 1 to March 21, 2016. The new feature allows content creators to test the popularity of the content uploaded with audiences in real time. So, every time a piece of content is viewed the user gets a point for it.
With plans to add more such features Johar explains that games is one area of focus for the app. "A game-based feature definitely allows to increase the usefulness of the app, apart from ensuring user engagement," adds Johar.
Besides, it plans to up the number of celebrities on the app in its bid to increase the celeb driven content. The app currently has actors such as Richa Chaddha and Kartik Aryan as regulars amongst others. Early this year, it had launched Closeup Websinger, a digital talent hunt show led by music director Pritam.
Making money
With the mobile application mostly earning money from sponsored content and advertising presently, it is now looking at additional revenue streams. In January, the app had launched sponsored talent shows such as Lakmé School of Style, a video fashion magazine, apart from talent hunt show Closeup Websinger. As per Johar, at present it generates all of its revenue from advertising and sponsorship.
Moreover, the company now plans to make a plunge into micro-payments. The app will be introducing a micro-payment feature in the gaming section, which will allow users to make small transactions. It plans to introduce the feature in the first quarter of 2016.
"We will be partnering with a mobile payment solutions company in order to launch this feature in the market," says Johar. He declined to name the mobile payments solutions provider.
What's more, there is also a plan to go for Series B funding. In January this year, it had raised $10 million in what it called a Series A round of funding from TTN Ventures. Of the money raised, the startup claims to be using 50 per cent to spur content creation and marketing, while 30 per cent of the fund is being used to build technology.
However, industry observers say it may not be smooth sailing for the digital media company. "Typically, in a Series B funding, a company looks to raise $8-10 million. But with investors now being cautious in their approach, the performance of the app in terms of number of users, the business model, etc., will play a crucial role in sealing the deal," said an investor, who did not wished to be named.
Nevertheless, Johar said factors such as a seamless user-experience/ user interface, scalability of a platform, in addition to the extent of personalization of the app makes or breaks the life of an app. "Just like the gamification feature, our aim is to introduce one innovative feature per quarter, which will keep the momentum going," said Johar.
---