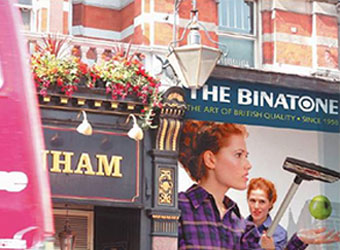 Binatone Global, a provider of IoT connected consumer electronics and lifestyle products, has announced the appointed of four corporate executives in order to bring its Hubble IoT Connectivity Platform to mainstream markets.
The move comes on the heels of Binatone's acquisition announced in September 2015 -- under which Gulu Lalvani-founded Binatone acquired exclusive licence rights to design, develop and market certain Motorola accessory products.
In 2008, Dino Lalvani, son of Gulu Lalvani, purchased Binatone Global from his father and took over as chairman. Binatone's products are sold under brands such as Motorola, AEG, Binatone and iDECT. It has offices in USA, Canada, UK, India, Hong Kong and Vietnam.
David Westendorf has been named president, overseeing product management, marketing, sales, engineering, operations, and supply chain for Binatone and Hubble Connected. Most recently, Westendorf was at Google as vice president of product management – Motorola Mobility, where he managed the Companion Products Division, including mobile accessories, audio, and wearable products.
Ochintya Sharma will join as vice president of global engineering. Prior to joining Binatone, Sharma was vice president at Samsung R&D, India where he managed large teams in the areas of IoT, multimedia, voice recognition and UX and convergence. Based in Bangalore, he will provide technical leadership for Binatone to create and deploy new products and services from its multiple engineering centres worldwide.
Frank Durden has been appointed as chief marketing officer and vice president of marketing, where he will be responsible for brand strategy, communications, demand generation, public relations and social media across Binatone and Hubble Connected. He has overseen the creation and execution of campaigns for American Express, Dove's Campaign for Real Beauty, Hellman's, Motorola, BP, Barclays, and Philips.
David Harris will join Binatone Global as vice president of global product management. He is responsible for product management across Binatone and Hubble Connected products, and also manages the newly-created Smart Audio Products Group, focusing on cloud connected audio products and services for personal, home and professional use. Prior to his appointment, he served as senior director of product management, portfolio planning and partnerships at Motorola Mobility. Harris has also held product roles at Xerox and Texas Instruments.
The new team will also oversee the launch of VerveLife, a new line of lifestyle electronics. In partnership with Motorola, these products will be announced at the Consumer Electronics Show (CES) in January, 2016. The team will also be responsible for bringing Hubble Connected experiences to Motorola and to-be-named third party IoT products.
---