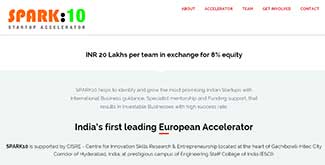 European startup accelerator Spark10 said on Tuesday that it will be investing as much as $100 million (Rs 660 crore) in Indian startups in two years as it launches its accelerator programme in the country.
It is not unusual for accelerators to create a parallel venture capital funding unit but Spark10's $100 million corpus is one of the largest in its peer group and given its ambitious investment plan of deploying the corpus in just two years, it would come across as a mid-sized VC firm.
Atal Malviya, co-founder of Spark10 Accelerator, said the corpus was created from institutional investors and would make seed stage investments for its accelerator programme.
"We will also track the startups that will graduate from our accelerator and invest in follow-on VC rounds looking at the business potential. We also plan to invest in startups which might not necessarily be part of our accelerator programme," he told Techcircle.in/VCCircle.
Spark10 has launched its operations at the campus of Engineering Staff College of India at Gachibowli in Hyderabad.
It said it will support at least 10 startups with investments and mentoring in every batch. The accelerator aims to provide seed funding of Rs 20 lakh to each of the select startups in exchange for an 8 per cent equity, besides providing them workspace for a 13-week programme.
It would seek to bring in startups with minimum viable products (MVPs) in areas such as IoT (Internet of Things), mobile, internet, smart technologies, analytics, machine learning, etc.
The accelerator also plans to expand to other cities across India after the first batch graduates.
Spark10's founding advisors include Jon Bradford, co-founder and managing director of TechStars London (formerly Springboard) and Paul Smith, co-founder and managing director of UK-based Ignite 100 Accelerator.
Spark10's co-founders of also include Vijay Ketan Mitra, LN Parmi, Subba Raju Pericherla, Rajesh Gummadapu and Suresh Kamireddy.
The accelerator will start its first batch of 10 startups  in mid March 2016.
---