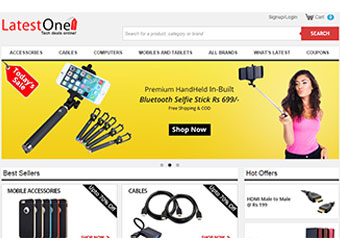 LatestOne.com, an online store for tech accessories, has raised $3 million (around Rs 20 crore) in additional funding from its publicly-listed parent Palred Technologies Ltd (formerly Four Soft).
LatestOne.com will use the money raised to ramp up operations, establish its third warehouse in Mumbai and expand revenue base, the company said in a statement.
Till date, Palred Online Technologies Pvt Ltd, which runs LatestOne.com, has secured $7.5 million (around Rs 50 crore) in funding. Palred Online Technologies is a subsidiary of Palred Technologies Ltd. Launched in 2014 by Palem Srikanth Reddy, the startup sells tech accessories such as cables, cases, chargers, power banks and headsets besides others.
The site claims it receives over 1.2 lakh visitors a day and the conversion rate has increased by 50 per cent. LatestOne.com said it has also brought down the customer acquisition cost by 40 per cent through R&D and enhanced technology.
The parent firm Palred Technologies Ltd has already raised Rs 9 crore through preferential share allotment to non-promoter investors – Koh Boon Hwee, former chairman of Singapore Telecom, Singapore Airlines, Passage to India Master Fund and Ashish Dhawan, founder of Chrys Capital. The board and shareholders of Palred Technologies have already approved additional investment of Rs 25 crore into their e-commerce subsidiaries, including LatestOne.com. PTL's primary area of businesses are e-commerce, IT services, and media and entertainment.
"LatestOne.com has grown from 100 orders per day to 4,000 orders per day in a span of 15 months. It stocks and sells over 10,000 SKUs from Delhi and Hyderabad warehouses," said PTL chairman Palem Srikanth Reddy. "This additional funding of Rs 20 crore will add to existing cash to ramp up operations to 6,000 orders per day, establish its third warehouse in Mumbai and scale up the company's annual net revenue to Rs 100 crore."
LatestOne.com aims to cross the Rs 10 crore-mark in net revenue this quarter with losses reduced by 60 per cent as compared to the previous quarter. It hopes to achieve a break-even operation on direct cost basis by next quarter, the company said.
Tech and mobile accessories worth Rs 25,000 crore are sold in India every year. "Customers are increasingly purchasing these products online, creating a potential for LatestOne.com to grow into a Rs 500-crore revenue company in the next three years," Reddy said.
LatestOne.com, which deals in tech accessories, broadly competes with big e-commerce venture such as Flipkart, Snapdeal, Amazon among others.
Reddy, founder of IT company Four Soft Ltd, had sold the transportation and logistics solutions business of the firm to UK-based Transport IT Solutions Pvt. Ltd in 2013 for $43.4 million. He then renamed FourSoft as Palred Technologies, bought online electronic accessories retailer deals15.com and renamed it LatestOne.
---