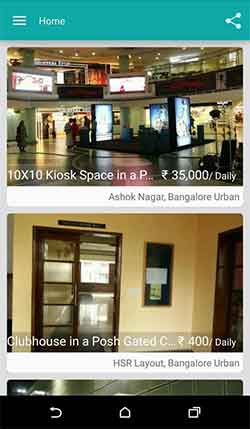 Scene one. You have just launched a bootstrapped business venture whose product or services need promotion and marketing. But it's quite likely that you are operating on a shoestring budget. You also don't know whom and where to approach.
Scene two. You are the owner of a commercial property which has been lying vacant and you would like to let it out for the short-term till you find the perfect long-term tenant. But where do you get one?
Scene three. You are the owner of a store/kiosk/mall/restaurant and have that space to let out. After all, it does not hurt to make some quick money on the side and in the process offer some variety to customers.
Enter Bangalore-based Mobiation Software Services Pvt Ltd, which runs findspace.in, an online marketplace that helps users find their appropriate short term rental space depending upon the purpose.
How it works"We assist you in finding that curated high-end retail space at a low, upfront cost. For instance, imagine the footfall and the brand impact that a product would get from a banner space in a place like Baskin Robbins," says Kiran Kumar Mandhadi, co-founder, Findspace.in.
Based on the marketing or promotion budget of the user, Findspace.in guides the user to help find an appropriate rental space by tying up with a range of retail spaces that include offline stores, restaurants, coffee shops, art galleries, IT parks, malls and even gated communities.
As soon as a booking is done, Findspace also assists in bringing visibility and exposure by listing it on event websites. Besides, it also helps in finding tenants for unoccupied commercial spaces for three months with minimal paperwork.
"We just help take the product to the potential customers and target audience," said Mandhadi.
Market, competitionAccording to a report by Knight Frank, the Indian real estate market is expected to reach $180 billion by 2020. Findspace hopes to target the unused and under-utilised commercial real estate space by finding short-term tenants.
"We can target 10-20 per cent of the total commercial real estate market," said Mandhadi.
Mandhadi claims that Findspace's business model has no direct competition and hopes to capitalise on the early mover advantage. Findspace will try to emulate the likes of thestorefront.com in the US and appearhere.co.uk in the UK.
While small businesses and individuals are the target audience to begin with, Findspace hopes to attract the bigger players in the space and is already in talks with a big name in the e-tail sector and also with a popular online furniture venture. Mandhadi declined to name the e-tailer. "Even big players in the space that include the likes of eBay and Amazon come up with pop-up retail stores in the US that disappear after a month," says Mandhadi.
He added that the concept of pop-up shops for brand discovery, which is a popular concept in the west, is yet to catch up in India.
Monetisation model and fundingFindspace currently gets 10 per cent commission on all rentals and hopes to create additional streams of revenue from marketing, branding and design, which it currently provides as a free service.
However, Vikram Upadhyaya, chief mentor and accelerator evangelist at GHV Accelerator, believes the monetisation model is not very sustainable and the RoI (return on investment) is tough to justify. "It's definitely an unsolved problem and the space is a bit crowded," he said. Angel investor Mohit Rampal says the major issue will that be of a constant supply of rental space and the short-term leases of unoccupied commercial rental spaces may not exactly be a clincher. "The concept looks good. You will have people ready to pay but then there needs to be more repeat sellers. Most commercial property owners prefer a long-term release. For the short term, you have business centres available," he said.
Since its launch on November 2, Findspace has tied up with more than 25 commercial spaces in Bangalore. "It is not a tough job to tie up with, say, 50 gated communities. We are trying to ascertain which category of commercial space adds the maximum value to the business," said Mandhadi.
Currently bootstrapped, Mandhadi claims to have been approached by two well-known names in the investor ecosystem. He declined to name the investors.
"At this point, we have enough to bootstrap the venture for a bit longer. We want to understand the brand and bring a certain scale to the operations," said Mandhadi.
Founding teamMandhadi has a master in computer engineering from the University of Houson. He founded FindSpace with his friend of 17 years, Krishna Kumar Madhariwar, an IIT-Madras alumnus who has worked at Microsoft and several technology startups earlier. Mandhadi has worked with EY earlier.
---