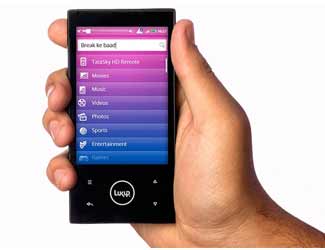 Lukup Media Pvt Ltd has received a unified licence to launch data services across the country, a move that allows it to offer internet, TV and video on-demand services on a single connection for users.
The Bangalore-based company, which has an eponymous on-demand TV service and advertising platform, said in a statement it will launch commercial dual-play services with TV and internet access in January.
Under the unified licensing regime of the Department of Telecommunications, operators are free to provide all telecom-led services (telephony, internet, broadband and others) through a single licence.
Founded in 2010 by Kallol Borah and Harsha Mutt, Lukup offers content and internet access to multiple screens through its flagship product Lukup Player. Dual play involves providing a combination of internet, on-demand channels plus regular TV.
Lukup Player features a wireless touch screen that allows users to find content from live TV channels, on-demand platforms and personal media storage.
The company is also running field trials on a new Gigabit wireless platform that operates outside the licensed spectrum. Lukup aims to offer connectivity at 1 Gbps to buildings and apartment complexes using this platform. The company typically uses last-mile optic fibre networks to offer its services.
The tests, if successful, would lower the cost of internet access by reducing infrastructure overheads, especially in semi-urban areas, the company claims.
"While we use optic fibre on the last mile managed by cable networks to reach homes now, the new Gigabit wireless platform will enable us to reach consumers where we do not have partnerships with local networks and will enable us to operate in semi-urban and rural areas where telecom network infrastructure is poor," said Borah, who is also CEO of Lukup Media.
Borah and Mutt have invested nearly $5 million in the company till date. Borah is a graduate from the London School of Economics and has previously worked at HeadStart Ventures and Aumega Networks. Mutt is from Harvard Business School and has worked at HeadStart Ventures, HCL Technologies, and Infosys.
Lukup's competitors globally and in India include Google Chromecast, Amazon Fire TV, Apple TV and Roku, which has more than 1,000 channels and over 2 lakh titles. In case of these players, broadcast TV is not available on their devices and products do not offer multi-screen experience.
---