Conventional wisdom in our industry says drop the cover price, aggressively pursue discounted subscription schemes, and lose up to Rs 5-6 per copy you sell. Then have advertising make up the loss. In my opinion, this model which the industry has pursued aggressively so far is going to be risky in a more wired world. But that doesn't necessarily mean the print medium needs to be.
According to the FICCI-KPMG 2015 report on the media and entertainment industry, the Indian print industry recorded 8.3 per cent growth in 2014 touching Rs 263 billion against Rs 243 billion in 2013. Interestingly, the report says that newspapers accounted for a major portion of the total revenue generated by the print industry.
This shows that even in the more digitally enabled India that we are expecting over the next decade, a viable business model can still allow a newspaper to comfortably own a fair share of the ad market for years to come and be a growing standalone business.
But as the cost of newsprint rises, we must reduce our dependency on advertising. And it's what we have been fairly successful in doing. Annual subscription for The Indian Express, for instance, is not just handed out at a typical Rs 250 a year, rather at Rs 900. So we lose less per copy we sell. I think the south-based The Hindu is trying a similar strategy in North India as are most business dailies.
I have a lot of faith in such a model because:
TV has made breaking news a commodity. This model forces us to value add, and differentiate our content offering. It creates a solid "reason to be" for the brand.
This unique value proposition makes the brand platform agnostic.
And most importantly, loyal audiences deliver a superior response to advertisers.
Even in digitally evolved markets, quality print products which give readers more than just commoditised news are not just surviving but even growing.
I am not for a moment suggesting that digital won't disrupt or that there won't be a shakeout. As per the latest advertising report by media planning agency ZenithOptimedia, digital advertising is expected to grow upwards of 20 per cent, while print will grow at 10 per cent. The report states with an increase in spends, advertising expenditure will expand by $3 billion between 2015 and 2018. Yet I don't see a drop in advertising in case of print.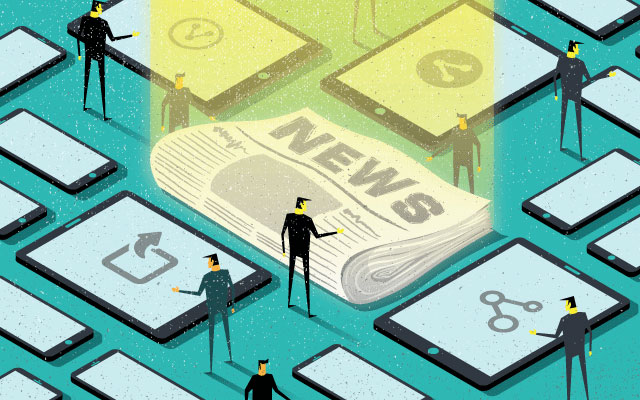 Take the example of radio: Has TV cannibalised radio? Both mediums have their own loyalists and co-exist magnificently! This will definitely hold true for print and digital too.
First, the newspaper user experience has had over 300 years of innovation to its credit which has given the print industry a very large and loyal reader base. A lot of today's digital penetration is expanding on that base. Over the years, we have observed that many newspaper readers prefer print and utilise digital format only to share articles or to interact. Language journalism also is a thriving business. We have had several new and repeat advertisers thrilled with the response to our Marathi daily Loksatta.
So I don't think digital will necessarily come at the cost of print. And as a news brand, we must welcome digital.
This year, India witnessed its first Digital Diwali. We saw a lot of serious interest for our own digital properties, especially indianexpress.com, from many brands who put their money where their mouth is. One evident trend seen is that advertisers, audiences and publishers are all creating a distinction between low-quality ABCD (Astrology, Bollywood, Cricket and Devotion) sites with just lots of traffic and quality publishers having intelligent audiences.
Another trend witnessed in the media space is to get audiences to respect high-quality content and pay for it. Digitisation in television, expensive tickets for on ground events, iTunes building its library in India, a music platform such as Saavn charging consumers for ad-free music experiences and even the success of Sunny Leone's paid-for pornography channel in India. These are all signs of a small beginning to a culture that could, one day, in the not-so distant future, consider, maybe just a little bit, paying for content!
The trick, as I learned from Arthur Ochs Sulzberger Jr., publisher, The New York Times, is to push both the journalism and the technology. Not just one.
The author is whole-time director and head, new media, The Indian Express (P) Ltd.
---