Differential pricing violates net neutrality, says IAMAI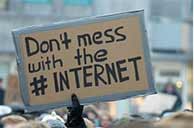 The Internet and Mobile Association of India (IAMAI) has opposed differential pricing for data services on the grounds that it violates the principles of net neutrality.
The industry group said also that even the pricing models suggested by the Telecom Regulatory Authority of India in a discussion paper on differential pricing for data services contravene the watchdog's own stated principles of being non-discriminatory, transparent, non-predatory, and non-misleading.
"Most of the models suggested by TRAI seem to violate one or all of these principles," IAMAI president Subho Ray said in the group's response to the TRAI consultation paper.
Meanwhile, TRAI has extended the last date for submission of comments for its consultation paper to January 7 from December 30. Counter-comments can be submitted by January 14, it said. The deadlines won't be extended again, it added.
Simply put, net neutrality is the principle that all online traffic should be treated equally. It requires service providers to treat all data on the internet equally and not impose differential pricing or discriminate among users, content sites, platforms and apps, also known as over-the-top services.
A debate on net neutrality stirred across the country after Bharti Airtel Ltd, the country's biggest mobile-phone operator, decided to charge separately for Internet-based calls but withdrew it later after people protested. Internet activists and experts flayed the operator for the 'Airtel Zero' service along with Facebook's Internet.org service that it later rebranded as Free Basics.
Facebook has been aggressively pushing a campaign where it is asking users to support its Free Basics scheme under which the user can access some websites without paying Internet charges. The regulator had received about 10 lakh comments on the first consultation paper it floated on net neutrality.
Last week, TRAI asked Reliance Communications Ltd to suspend plans to launch the Free Basics service.
Amid the debate over zero-rating plans and telecom firms offering discounted tariffs for accessing certain websites, TRAI issued a consultation paper seeking comments on whether such differential pricing should be allowed. According to Bulletin Babu, a Twitter bot that counts the emails sent to TRAI in support of net neutrality, about three lakh emails have been send through savetheinternet.in.
Comment(s)