Quikr lost Rs 9 for every Re 1 earned last fiscal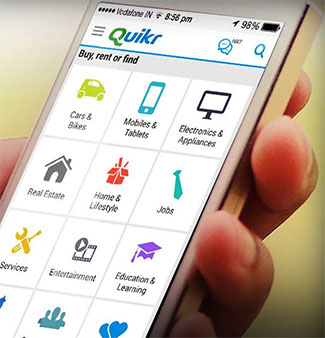 One of the top two online classifieds sites in the country, Quikr saw its losses more than double last fiscal as it sought to stretch its lead over Naspers'-controlled OLX with turbo-charged marketing.
Quikr, which counts Warburg Pincus, eBay, Kinnevik, Tiger Global, Falcon Edge, Steadview, Matrix Partners, Omidyar and Norwest Venture Partners among its investors, saw its revenue from operations grow 23.7 per cent to touch Rs 24.78 crore. The firm, however, saw total income rise to Rs 52.5 crore, thanks to 'other income', as per VCCEdge, the data research platform of VCCircle, based on Quikr's filing with RoC.

At the same time, its EBITDA (or operating) loss and net loss more than doubled from around Rs 200 crore to Rs 440 crore. This means for every Re 1 of income it generated, it lost about Rs 9. Indeed, if one factors out its non-operating revenues, it lost Rs 18 for every Re 1 in revenue.
As per its filings, salaries and employee compensation doubled to Rs 30.2 crore for the year ended March 31, 2015. However, the big factor was advertising promotion expenses, which swelled from Rs 159 crore to Rs 382.3 crore. Several other operating expenses also rose as the firm strategised to create separate online properties as standalone 'verticals'.
It has already launched QuikrHomes, QuikrCars and QuikrServices as part of this initiative. As first reported by VCCircle, it is also in the final lap of a proposed deal to buy and merge CommonFloor with itself, a move that would boost its new QuikrHomes vertical.

Quikr's real estate vertical competes with MagicBricks, 99acres and PropTiger among others. News Corp, the owner of this news website, holds a stake in PropTiger.
A Quikr spokesperson pointed out that the firm has been building monetisation channels and that its verticalisation strategy is a step in that direction. "Our plan is to be profitable over the next couple of years, and in order to help us accelerate our growth in the meantime, we also moved our HQ (headquarters) this year and now have our own campus in Bangalore."
Stressing that cash inflow from paying customers counts the most when it comes to monetisation, the spokesperson said in an email response:"Cash inflow... tends to be a far larger figure than revenue in all fast-growing businesses where customers sign up for longer-term contracts for which they pay upfront. The contracts are amortised over time, hence growth in revenue gets far more understated versus growth in cash inflow."

Interestingly, Quikr had arguably become a 'unicorn', a term for startups that have attained a valuation of $1 billion or more, early this year. However, with the US dollar strengthening, its valuation had fallen short of the tipping point.
In a secondary transaction in the middle of the year, where Swedish investor Investment AB Kinnevik raised its holding in Quikr by acquiring the stake held by a few early investors, Quikr was valued at $900 million.
Founded in 2008 by Pranay Chulet and Jiby Thomas (who quit the firm later), Quikr was originally started as Kijiji India. It had initially raised an undisclosed amount in Series A funding from Matrix Partners India in the same year. In 2009, it received Rs 20 crore from Omidyar Network and Matrix Partners in its Series B round. A year later, it raised Rs 27 crore in Series C round in which eBay and Norwest Venture Partners along with existing investors participated.

Nokia Growth Partners, Norwest and eBay put in around $8 million in the firm in its Series D round in 2011, and the firm subsequently hit the big league as marquee PE firm Warburg Pincus led a $32-million investment round.
Quikr went on to raise $150 million across two rounds last year followed by another $150 million early this year as it added Kinnevik, Steadview Capital and Tiger Global as new investors.
This article has been modified to incorporate the company's response.

---