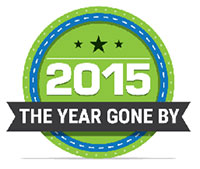 A $4-billion acquisition, moderating growth that prompted IT services companies to focus on productivity, and the rise of a host of internet kids with unprecedented levels of funding and valuation marked 2015 for the Indian technology industry.
Undoubtedly, it was a year of startups as three new ventures were born every day on average. Tech industry body Nasscom estimates the number of early-stage companies in India rose to 4,200 this year from 3,100 last year. And valuations skyrocketed. Taxi aggregator Ola's valuation soared five-fold to $5 billion while Flipkart's valuation grew to $15 billion from $11 billion.
Startups also entered mainstream lexicon, policy deliberations and political grandstanding. 'Startup India, Stand-up India' was a theme in Prime Minister Narendra Modi's independent speech. Congress vice president Rahul Gandhi met startups in Bangalore to learn about the ecosystem.
But not all was well in the startup world. Occasional flare-ups between venture capitalists and young founders, a funding slowdown as the year draws to a close, a series of shutdowns and job cuts put the spotlight on startups for the wrong reasons.
The downside
The most talked-about figure in the startup world this year was Rahul Yadav. The IIT dropout who co-founded real estate portal Housing.com was sacked as the CEO after a public spat with investors. Troubles at Housing.com exposed the perils of momentum investing. Yadav resurfaced toward the end of the year with Intelligent Interfaces, a venture backed by Bansals of Flipkart.
Infosys put in around $25 million in five startups this year while Wipro took a minority stake in four early-stage US firms
To some extent, Yadav played a role in investors turning cautious in funding startups. In fact, many companies 
struggled
 to raise funds, particularly mid- and late-stage investment, in the second half of 2015.
This was followed by a series of shutdowns, especially in the crowded hyperlocal and food-tech segments. For the first time, Indian startups sacked employees on a large scale; more than 2,000 people lost jobs in known startups.
IT services, BPO
While startups were the flavour of season, the overall tech industry has seen its growth moderating this year. The $146 billion Indian IT industry, driven by software services exports, is projected to grow 12-14 per cent in 2015-16 against 13-15 per cent last financial year.
It is estimated that the major IT service companies TCS, Infosys, Wipro, HCL and Tech Mahindra could grow at a far lower rate than the projected industry average. The year started with layoff rumours at TCS, which has 3,35,000 employees, as the company's alleged attempt to streamline its growing middle layer sparked discontent.
Investor interest in IT companies, however, remains steady. The BSE IT index grew 4.3 per cent in 2015 when the benchmark Sensex declined 5.3 per cent.
The year's highlight is Capgemini's $4-billion acquisition of IGATE, which allowed PE investor Apax to exit with 3.7x gain from the Nasdaq-listed company.
Interestingly, major IT companies stepped up their venture investment operations this year. Infosys expanded the corpus of its Infosys Innovation Fund by five times to $500 million in January this year. The company put in around $25 million in five startups and became a limited partner in Silicon Valley-based Vertex Ventures by investing an undisclosed amount. Wipro took a minority stake in four early-stage US firms through its $100 million startup fund.
The focus on advanced technologies such as artificial intelligence, machine learning, digitisation and SMAC among Indian IT service companies increased as they strive for nonlinear growth; more revenue with less number of people.
BPOs, another matured segment within the technology industry, saw some action with Blackstone acquiring Serco's India business for $385 million. For the $26 billion BPO industry, which depends heavily on overseas contracts, there are signs of growing domestic business, thanks to a thriving e-commerce industry and emerging 4G telecom services.
People movement
The top deck at Infosys stabilised this year after several senior executives left in 2014, when the company named Vishal Sikka its first non-founder CEO.
A notable exit from Infosys was that of CFO Rajeev Bansal, who is taking up the same role at Unicorn startup Ola.
In other movements, TCS veteran Abid Neemuchwala was named chief operating officer at Wipro where he is seen as a likely successor to CEO TK Kurien. Wipro saw at least two vertical chiefs quitting -- healthcare segment head Sangita Singh and media and telecom head Ayan Mukerji.
Ashok Vemuri, CEO of IGATE, left the firm following its acquisition by Capgemini. Infosys chairman KV Kamath stepped down to lead the newly formed BRICS Bank. He was succeeded by R Seshasayee.
Among the top internet firms, Flipkart felt the highest churn this year with at least 16 senior people quitting the company.
Enterprise IT startups
In 2014, global internet giants including Facebook, Google and Yahoo lapped up a number of Indian enterprise IT startups. Deal activity was subdued this year, with Twitter's acquisition of Zipdial among the few exceptions.
Still, Sanat Rao, who overseas M&A activity at IT products industry group iSPIRT, feels the deal pipeline is healthy. iSPIRT facilitated seven out of 10 inbound deals in this segment. Rao said many deals failed at the legal and financial due diligence stage because small companies do not have governance structures in place. "For every deal that goes through, 10 deals fail," he said.
---