He is arguably one of India's best-known corporate technocrats. One credited with building the world's largest identity database in record time. Globally acclaimed 'ideas' man. Author. Budding philanthropist. And a failed politician.
In 2016, add startup and "private" equity investor to that list.
He has invested in four startups in the past three months and is all set to write his largest cheque to a startup: about Rs 100 crore investment into what he would only describe as an "intelligent, high-end hardware product company."
"I do early startup funding, I do Series A. I am in the process of writing $10-15 million (cheque). Most of my cheques are small; $1 million-$2 million. The $10-$15 million is more like a PE investment. I am in the process of writing that so obviously I can't divulge more details," said Nilekani in an expansive interview at his home in Bangalore.
Today is first of a four-part series on Nilekani, whose well-chronicled three-decade career at Infosys as a co-founder was followed by a five-year stint in government, heading the mammoth unique identity project Aadhaar, and an unsuccessful shot at politics. Nilekani has kept a low profile since that election defeat some 19 months ago and is only now speaking publicly what comes ahead in the 60-year-old's life.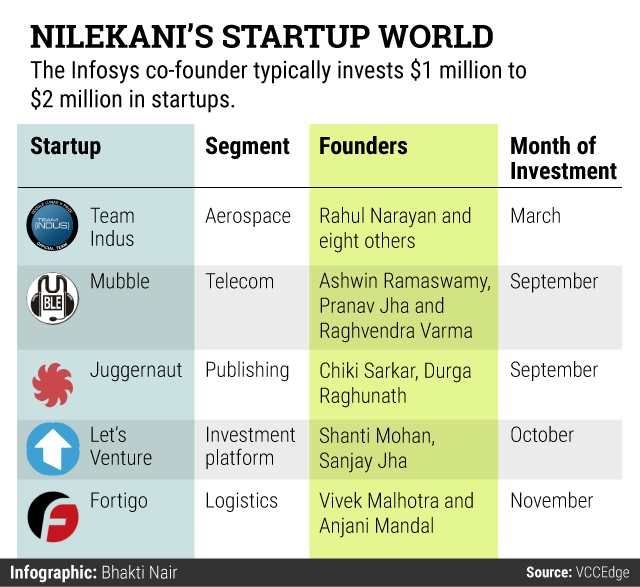 Part 2 of this profile will look at Nilekani's short-lived political life and lessons he says he has learned from it.
Part 3 will be on how Nilekani is a one-man think tank through his books and speeches that argue for a major government-startups mentality, just as the Indian government plans to roll out a major startups-India initiative mid-January.
Part 4 focuses on the philanthropic work of Nilekani and his entrepreneur wife Rohini Nilekani, who are ranked 69th on Forbes' India Rich List with an estimated wealth of $1.58 billion (Rs 10,500 crore.)
Just in the past three months, Nilekani has invested in data consumption tracking mobile app Mubble, logistics solutions startup Fortigo, book publisher Juggernaut and angel investment platform LetsVenture. He had previously backed aerospace research startup Team Indus in March.
Nilekani says the timing of his startup investments mostly had to do with not having a day job, so to speak.
"At Infosys, we did not invest partly because we didn't want any conflict of interest," he notes. "In government also, I was too busy and I didn't want any conflict of interest. It is only now that I am a completely private individual; I am not a CEO of a large company, I am not in government, I am not in politics. I am just a guy who lives in Koramangala 13th Main. I have much more freedom."
And Nilekani appears to be in a hurry to make up for the lost time.
"I sought his appointment, went and met him," recalls Shanti Mohan, co-founder of LetsVenture. "We spoke for an hour. For funding, I did not have to meet him again. I guess he later spoke to a few people who know about our business. He committed fairly quickly."

For his part, Nilekani says he is "looking for original ideas; original solutions." And also puts a lot of store in what he thinks of the founders.
"Team Indus is a very ambitious project to put a robotic rover on the moon; as big as it gets," he says. "I think we should encourage young Indians to think like that. Mubble is an interesting product. It helps people to manage data consumption. It is a huge thing because Indians are very conscious of their data plans. Once you have that you can build adjacencies around that."
With Juggernaut, "Chiki Sarkar comes with a fantastic reputation as a publisher and, within six months, she has a fantastic catalogue of books and authors. In LetsVenture, Shanti and her partner are very good."
Thanks to his pedigree and public profile, which he assiduously cultivates, Nilekani is already one of the most sought-after investors for startups.
"I never go out (looking for startups)," he says. "A lot of people come to me. There is never a shortage of deal flow."
Consider Sarkar of Juggernaut. "I know Nandan personally so went to him early on with my idea," she says. "He liked the idea from Day One. "He gets things, he is sharp. He asks hard, detailed questions." When VCCircle reached out to Sarkar for this article, Nilekani had just set aside three hours next day to review the progress of Juggernaut and discuss its app design and strategy.

Nilekani says while he is "really interested in the larger ecosystem," the "few investments I have made, I genuinely feel these are passionate founders, new ideas, and the scale is there. And I don't need to set up a fund."
Nilekani also advises and offers strategic guidance to a number of startups where he has no financial stake. Healthcare company Portea has been one of them. He meets its management team once a quarter. "We update him on a regular basis. We slot our meeting for two hours but end up spending three-four hours with him," said its founder K Ganesh.
Ganesh's association with Nilekani predates Portea. "Nandan has been our sounding board from Tutor Vista days," he notes. "We were building an India-based company focusing on the global (online tutors) market. Often, when we were struggling, we used to go to his office at Infosys and would have an open session with him. He sees the big picture. At the same time, he has an eye for detail. It is a rare combination," said Ganesh.
Ganesh ended up selling Tutor Vista to Pearson Plc, after Nilekani had put them in touch.
Nilekani's advice has helped Ganesh position Portea as a consumer healthcare company offering services outside of tertiary care. And it was Nilekani who pointed out the need for a separate vertical for training for caregivers rather than keeping it as a part of Portea's human resources division. Ganesh has unsuccessfully urged Nilekani to be on the board of the company and an investor.
"A lot of people approach me for advice or strategic validation or mentoring. The number of companies I meet is far more than I invest," admits Nilekani. "I am not looking for me-too companies. I am looking for companies that are trying to do things. The other thing I find interesting is organising India's unorganised economy. Fortigo is a good example because it is going to reorganise the back-end of trucking. I am looking at things that will have this kind of an impact."

Entrepreneurs such as Ganesh and Shanti primarily bank on Nilekani for his guidance on building scale. "Having led Infosys and Aadhaar, he understands scale," said Ganesh. "Nandan represents a class of entrepreneurs who successfully scaled businesses," said Shanti. "He is very sharp but he does not make you feel uncomfortable; he respects other people's ideas."
Because of his past and his present, especially his not-for-profit activities, Nilekani stays away from several sectors. "I only have rules about what I don't do," he says. "I don't invest in FinTech because there I do policy work. I don't invest in Aadhaar-based startups because I don't want to profit from my work. I don't invest in education because there I do only philanthropy. (Beyond those) if it is a new idea that is going to change some part of India's economy, then I will look at it."
Nilekani currently advises National Payment Commission of India on mobile payment strategies and he is a co-founder of EkStep, an initiative to improve learning outcome in students from poor socio-economic backgrounds.
For now, Nilekani's startup investments will account for a tiny portion of his wealth, which is mostly in Infosys shares and is managed by a family office.
"My family office manages all this stuff. Of course, a lot of it is Infosys. The other stuff is in public markets and mutual funds, equities. A small portion of it is this, the startup business," he said.
While his chequebook is useful, some startup founders wish they could get something else from Nilekani: more of his time. "He spends most of his time on public service and policy initiatives, and EkStep, which is his passion. If he spends much more time with startups, then the ecosystem will benefit," says Portea's Ganesh.
Only time will tell.
---