How Microsoft's Surface Pro 4 stacks up against top of line iPad, Tab
Microsoft has launched the Surface Pro 4 at a whopping Rs 89,990. The devices will be available for shipping from January 14. Similar to Apple's iPad Pro and Samsung's Galaxy TabPro S, the Surface Pro 4 is a hybrid device that doubles up as a laptop and a tablet.
Here's how the devices stack up against one another.
Display and weight Microsoft has improved the screen of the tablet with a 12.3 inch display and 2736x1824 pixels resolution, compared to its predecessor. The Pro 4 has been reduced to 8mm in thickness.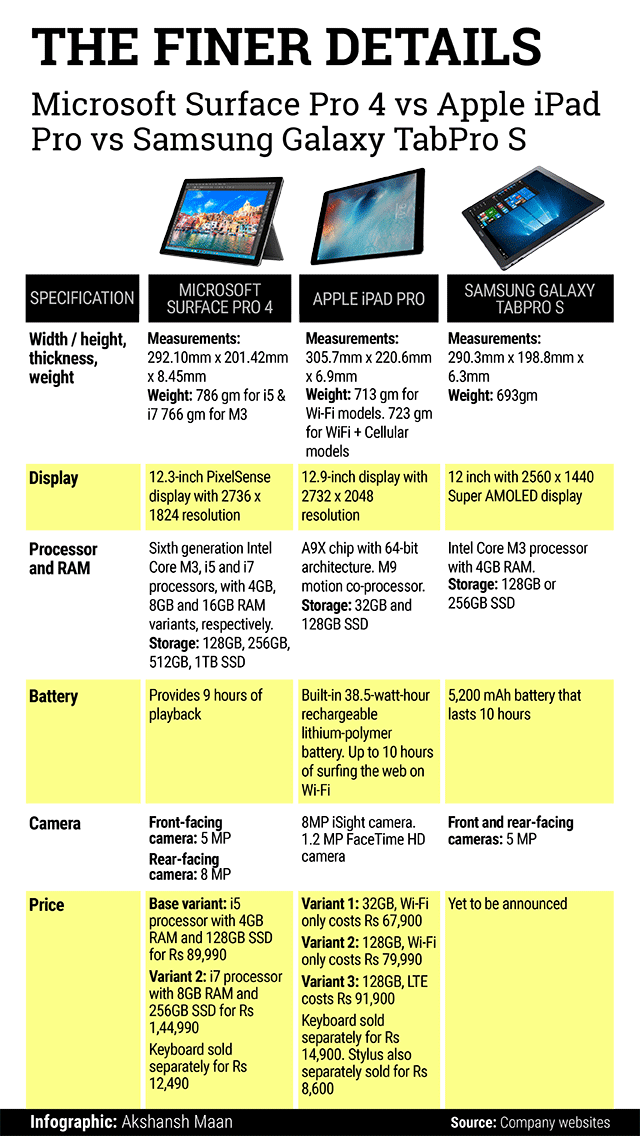 Apple's iPad Pro screen resolution is similarly placed with a 12.9-inch LED (2,732x2,048 pixels) display. It must be noted that these closely resemble the iPad Air 2. However, with regard to thickness, the iPad Pro is certainly thinner at 6.9mm.
Competing with the Surface Pro 4 and iPad Pro is Samsung's Galaxy TabPro S, released at CES 2016. The device comes with a 12-inch, 2,560 x 1,440 Super AMOLED display and is 6.3mm in thickness, making it thinner than the Pro 4 and iPad Pro. Samsung is yet to announce the release date for the Galaxy TabPro S.
In terms of weight, Microsoft's Surface Pro 4 at 785g is heavier than the Galaxy TabPro S at 694g and the iPad Pro which is 713g for the Wi-Fi only version and 723g for the Wi-Fi + LTE version.
Processor The Surface Pro 4 comes equipped with sixth generation Core m3, i5 and i7 processors with 4GB, 8GB and 16GB RAM, making it a more meatier option than the Galaxy TabPro S, which comes equipped only with a Core M processor with 4GB of RAM and 128GB or 256GB SSD of storage. Samsung will soon release Wi-Fi and LTE versions of the TabPro S. The iPad Pro is packed with the A9X chip and is ideal for designers and gamers, thanks to its powerful graphics.
Samsung has introduced a nifty feature in the Galaxy TabPro S: the device can be wirelessly paired with a 2015 or newer version of the Samsung Galaxy smartphone. Once paired, users can log into the Tab via the fingerprint sensor on the phone.
Stylus and Keyboard Writing on the Surface Pro 4 makes it seem like you are writing on actual paper. The device is equipped with a Surface Pen, which has a button that functions as an eraser. A double click will enable users to take a screenshot which will open on One Note, while holding down the button will bring up Microsoft's personal assistant, Cortana. The handwriting recognition software can transcribe garbled writing inputs into typeface. The Pro 4 is designed with PixelSense technology, thus enabling it to differentiate between the stylus and a finger.
Apple's iPad Pro too comes with a stylus called the Apple Pencil but it is separately available for Rs 8,600, which is not the case with the Surface Pen. The Apple Pencil provides a smooth working experience for artists and those working with images.
The Galaxy TabPro S comes with a detachable keyboard. However, unlike Apple and Microsoft, this keyboard has a folio cover and has an optional Bluetooth stylus.
What elevates all three devices to notebook status is the detachable keyboards. The Surface Pro 4 and iPad Pro keyboards are priced separately at Rs 12,490 and Rs 14,900, respectively.
Entry price Apple's iPad Pro comes in at a much lower cost as compared to the Surface Pro 4.
The entry price for the base variant of the Surface Pro 4 (Core i5, 4GB RAM, 128GB storage) is Rs 89,990, while that of the Apple iPad Pro is much lower at Rs 67,900 (32GB, Wi-Fi only). Samsung is yet to announce the price for the Galaxy TabPro S.
Comment(s)