Why 500 Startups & angels-backed travel-tech venture Tushky shut shop

Tushky, a 500 Startups-backed online marketplace for discovering and monetising leisure activities, quietly stopped operations last August after it failed to scale up at a time when the funding environment had started tightening.
"We have decided to go in hibernation for some time to reboot. Whether we will be back again, only time can tell," reads the Tushky website, which has not been updated since August.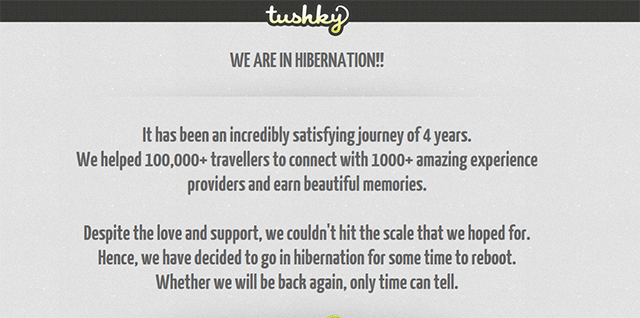 In its heyday, Tushky Events & Entertainment Pvt Ltd connected about 100,000 travelers for numerous activities across cities.
Where did the script go wrong for the company?
"While the activities space is pretty large, the market wasn't ready. The regular behaviour of a user is to go for a movie or visit a mall on weekends, and changing this requires a decent amount of capital," Tushky co-founder Talvinder Singh told Techcircle.in. Singh is now the chief product officer at fashion e-commerce venture Freecultr.

"On the supply side, the sellers are still lethargic in terms of technology adoption. Activity providers also have very less investment at stake and so they are not eager to increase their bandwidth," he added.
Tushky essentially connected travelers with unknown guides, tour operators and experience providers to discover and book local experience. It allowed users to book sky-diving packages (in India or abroad) as well as go in for salsa dance classes. While listing was free, users would pay for transactions, if any.
Singh, an IIT-Bombay alumnus who previously worked with IIT-ian's Pace Education Pvt Ltd, and Kranti Agrawal, who had earlier worked at ShoppingBuddy.in, started Tushky in 2011. The company raised $63,000 in 2012, and $200,000 in 2013, when it was valued at $1 million. Besides 500 Startups, it counted top techpreneurs such as Anupam Mittal, Rajesh Sawhney, Vijay Shekhar Sharma, Dinesh Chandra Agarwal, Samir Bangara, Samir Sood, Kunal Sharma, Abhishek Jain, Pankaj Jain and Naveen Tiwari as investors.

Singh believes the company started at a time when mobile adoption had not really taken off. Back in 2011, online transactions were limited, he says.
Tushky tried raising funds again in 2014, but with little success. "Investor preferences had turned sector-specific. They were now investing in sectors such as logistics and food-tech and other areas were not being examined that carefully," says Singh. "Some money was available, but I wasn't getting it at the valuation I wanted."
The same year, Agrawal exited Tushky due to health concerns. Today, Agarwal works in food-tech startup Holachef's core team.

Subsequently, Singh shrunk the 40-member company while retaining a core team of three-four staffers. Ultimately, it wound down operations in August 2015. Even at the cusp of closing down, Tushky was generating profits, Singh claims.
In hindsight, Singh believes that diversifying too early made it difficult for the company to scale up. "I added a lot of categories and cities early on as only then we were able to justify our valuation and raise more funds," he says. "If I could do it differently, I would have concentrated on a few categories and made sure Tushky was a prominent player in the market, before adding more categories," Singh adds. However, Singh still vouches for the concept behind Tushky. He is hopeful of reviving the venture in the years to come.
---