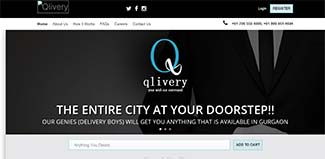 Gurgaon-based Invexgo Solutions Pvt Ltd, which runs on-demand concierge services Qlivery, has raised an undisclosed amount of funding from Chandigarh Angels Network (CAN).
The funds will be utilised to scale operations. Some part of the funds will also be used to improve its current set of technology (mobile app and web application) including implementation of artificial intelligence, Karan Saharan, co-founder, Qlivery told Techcircle.in.
"Next time you need 2 kg of potatoes, a leaf of Crocin and a kathi roll from local restaurant, order with Qlivery to get it all delivered at your doorstep in under 90 minutes," he added.
"CAN as a group looks at this investment as a milestone to support Qlivery's expansion strategy and take it to the next level," said Vineet Khurana, a CAN spokesperson.
Qlivery was co-founded by Saharan, Chetan Agarwal, Sonal Saraogi, Shivani Agarwal and Rohit Pansari in June 2015.
Agarwal is an MBA from MDI Gurgaon and has worked as a consultant with a boutique consulting firm while Sonal finished her MBA from FORE Business School after which she worked with ICICI Wealth Management. Saharan and Pansari are chartered accountants by profession and have worked with EY (earlier known as Ernst & Young). Shivani Agarwal is an IIT-Kharagpur alumni and was with Samsung before starting Qlivery.
Qlivery runs its own delivery fleet which collects and delivers items according to customer's needs. It also allows customers to place pick 'n' drop orders or task orders. The startup charges a delivery charge for every order.
The startup is currently operational in Gurgaon and claims to have served 12,000 customers since it started operations. It plans to expand its services to Delhi NCR by April 2016 and to Bangalore, Pune, Hyderabad and Mumbai by the end of 2016.
Qlivery employs 55 people and plans to hire 150 people by April 2016. It also plans to tie up with various hotels and offices to provide on-demand concierge services to employees and travellers.
A number of concierge platforms have received investor attention. This month, Wishup, a chat-based concierge services startup, secured seed funding from 500 Startups, former Rocket Internet managing director Mato Peric and TracxnLabs.
In December 2015, Joe Hukum, an app-based provider of concierge services, raised an undisclosed sum in seed funding from TracxnLabs, Citrus Payments' Jitendra Gupta and 1mg.com's Prashant Tandon.
Last year, Lookup raised $2.5 million in Series A funding led by venture capitalist Vinod Khosla's personal fund, Khosla Impact, with participation from Biz Stone (Twitter co-founder). Also, Goodbox secured $2.5 million (Rs 16.5 crore) in Series A funding from Nexus Venture Partners while Goodservice received $1.6 million (Rs 10 crore) in seed funding from Sequoia Capital in June 2015. Haptik, Yellow Messenger and OK Sir are the other players in this segment.
CAN aims to invest between Rs 10 lakh and Rs 2 crore in fledgling tech firms across sectors such as education, healthcare and finance.
Chandigarh-based JumboBasket Pvt Ltd, which runs e-commerce returns platform JumboBasket, had raised an undisclosed amount in angel funding from CAN.
New Delhi-based Eckovation Solutions Pvt Ltd, which runs a social learning platform for students, had raised an undisclosed amount in angel funding from CAN in 2015.
---