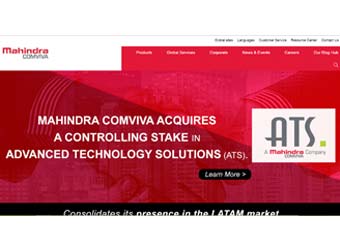 Mobility solutions firm Mahindra Comviva has acquired a controlling stake in Advanced Technology Solutions (ATS), an Argentina-based mobile VAS company, for an undisclosed amount.
This acquisition adds customers such as AT&T, Claro, Entel, Nextel, Oi, Telefonica, TIM and Viivo, besides others to Mahindra Comviva's portfolio, the company said in a press statement.
With this transaction, Mahindra Comviva, a unit of IT services major Tech Mahindra Ltd, would also become one of the top VAS providers in the Latin American region. The deal strengthens the company's in-region presence and expands its implementation and post-sales support capabilities.
"With these enhanced capabilities, we are well positioned to deliver higher value to our present and future customers. Mahindra Comviva is focusing on Latin America as our next growth market," said Manoranjan Mohapatra, CEO, Mahindra Comviva.
Mohapatra expects the Latin America region to account for about 15 per cent of the company's global revenue over the next three years.
Within South America, Mahindra Comviva already has telecom clients in El Salvador, Guatemala, Honduras, Bolivia, Colombia, Paraguay, Guyana, Curacao and Peru.
The 24-year old ATS works with telecom operators in Argentina, Brazil, Mexico, Colombia, Peru and Ecuador, besides five countries in Central America. It provides solutions around USSD, SMS, IVR messaging solutions and other value-added services.
Comviva's core offerings
Mahindra Comviva largely positions itself as a content, mobile commerce and data services company. One of its major products is Mobiquity, which connects banks, payment gateways and merchant websites to deliver a range of financial services. Mahindra Comviva is targeting payments bank and small finance bank licensees for Mobiquity. In fact, Tech Mahindra was one of the 11 entities to get the Reserve Bank of India's nod for starting a payments bank.
Recently, Mahindra Comviva ventured into the B2C commerce space with Zerch, a new discovery app for local deals.
Mahindra Comviva, in which IT major Tech Mahindra holds a 67 per cent stake — the rest is held by Bharti Group (20 per cent) and private equity firm WestBridge Capital (13 per cent) — has presence in 90 countries.
---