DB Corp's digital ad revenue grows 34% in Q3 FY16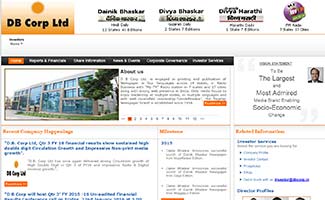 DB Corp Ltd's digital ad revenue has registered 34 per cent increase to touch Rs 12.3 crore in the quarter ended December 31, 2015 even as the media company's overall ad revenue grew a meagre two per cent, indicating the growing importance of the digital business in its overall ad revenue pie.
Its overall ad revenue was Rs 435.6 crore in Q3 FY16 against Rs 428.3 crore in the year-ago period.
The company, which clubs its mobile and web business under a new division called DB Digital, has Hindi news website dainikbhaskar.com, Gujarati news portal divyabhaskar.com besides divyamarathi.com and dailybhaskar.com news portals in Marathi and English respectively. It also has a Hindi language news app called DB Mobile and a Hindi business news app called Money Bhaskar. DB Digital's ad revenue in July-September quarter of 2015-16 was Rs 92 crore.
Radio ad revenue grew by more than 25 per cent to touch Rs 32.3 crore in Q3 FY16.
Print ad revenue, on the other hand, shrank marginally to Rs 391.2 crore in Q3 FY16 against Rs 393.4 crore in the year-ago period.
"Our non-print businesses are well on course as our digital business continues to gather momentum and our radio business strategy maintains commendable progress as we prepare to commence operations of the newly acquired stations over four to six months," Sudhir Agarwal, managing director, DB Corp said in a statement.
The company, which publishes newspapers Dainik Bhaskar, Divya Bhaskar, Dainik Divya Marathi and Saurashtra Samachar, registered a marginal growth of 1.6 per cent in its net profit which stood at Rs 106.8 crore for Q3 FY16 as compared to Rs 105.1 crore in the year-ago period.
Its net sales on consolidated basis increased 5.43 per cent to Rs 577.61 crore during the quarter as against Rs 547.83 crore in Q3-2015.
Comment(s)