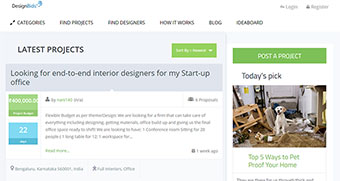 DesignBids.in, a Delhi-based project discovery platform for architecture and interior design services, has secured an undisclosed amount of funding from Indian Angel Network.
The startup will use the capital raised to improve the technology, expand the team, and scale up operations in all the major metros.
Ambarish Raghuvanshi and Arihant Jain, who led this round of investment, will join the board of the company, IAN said in a statement. Raghuvanshi is co-founder and former CFO of Info Edge (India) Ltd. Jain is executive director at Dasnac Holdings, a Delhi-based real estate company.
DesignBids, run by Designbids Technologies Pvt Ltd, is a platform that connects projects owners with architects and interior designers by using a reverse-auction mechanism. The process is similar to the floating of tenders, which is commonly practiced for government projects. Project owners can post design requirements and get proposals/bids from architects and interior designers on the platform.
The company was founded in November 2015 by Nithish Joseph Monson, an architecture graduate from IIT Roorkee and Shreya Bisht, an alumna of Greater Noida Institute of Technology.
Designbids is a pivot from CadMonky, a previous venture of the founders. Cadmonky was a US-based crowd-sourcing platform for CAD, 3D modelling, and rendering of architectural jobs.
The startup claims to have acquired more than 100 projects with over 300 designers registered on the website since inception. The projects include home interiors, offices, cafes, commercial architecture, hostels, salons among others. Its services are now available in Bangalore, Delhi, and Mumbai.
"DesignBids aims to centralise India's architecture eco system, which is currently disorganised with thousands of small players acting independently. We wanted to streamline the process," Monson said.
The startup plans to add contractors, technical consultants, developers, and other service providers onto the platform in the future.
---