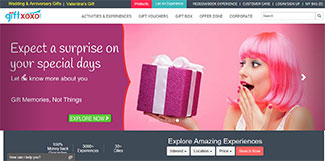 Bangalore-based Nreach Online Services Pvt Ltd, which runs online gifting platform Giftxoxo, has acquired Actizone, an online portal to discover extracurricular activities, for an undisclosed amount.
As part of the deal, Actizone co-founder Rajat Sharma will join Giftxoxo and spearhead its sales and development efforts in western India.
Queries sent to Giftxoxo as well as Actizone on the deal went unanswered at the time of filing this report.
"Actizone will help us cater to the large kids' activities market in India. It'll add to our existing portfolio of activities in different categories," Manoj Agarwal, co-founder of Giftxoxo told The Economic Times.
Mumbai-based Actizone, run by PassionKart Services Pvt Ltd, caters to all age groups, ranging from toddlers to adults, who can discover activities grouped under 12 broad categories -- dance zone, music and singing zone, art and crafts zone, IQ enhancement zone, toddler zone, health and wellness zone, sports zone, cooking zone, speech and drama zone, languages zone, adventure zone and photography zone on the portal.
Giftxoxo was founded in April 2012 by Sumit Khandelwal, Manoj Agarwal, Abhishek Kumar and Kushal Agrawal. Khandelwal holds an MBA degree from TA Pai Management Institute, Manipal, and has worked with companies such as Hexaware, Wipro Consumer Care and Metro. Manoj Agarwal is an MBA graduate from IIM Kozhikode and had started Tawa, a restaurant in Bangalore, before joining Giftxoxo. Kumar, who also co-founded e-commerce portal Evening Flavors, is an IIT Bombay alumnus while Kushal Agarwal studied at Pune's Vishwakarma Institute of Technology.
In 2013, Giftxoxo had raised an undisclosed amount in angel funding from Mumbai-based Kshatriya Ventures.
In October last year, Giftxoxo acqui-hired Yipeedo, a recommendation engine that assists city dwellers to discover and book leisure activities.
Activity-based startups seem to be capturing investor attention. Brigge, an activity-based social network that also allows users to discover people with similar interests, had recently raised an undisclosed amount in seed funding from The Chennai Angels.
---