The Reserve Bank of India on Tuesday said it plans to remove some restrictions for startups to improve ease of doing business, a fortnight after the government announced tax exemptions and other incentives to boost entrepreneurial ventures.
In a statement accompanying its monetary policy review, the RBI said it would allow startups to receive foreign venture capital investment without any curbs. The central bank would also "explicitly" enable Foreign Venture Capital Investors to transfer their shares to other residents or non-residents, it said without elaborating.
The RBI's proposals come at a time when Indian startups are staring at a slowdown in mid- and late-stage venture capital funding as investors get cautious after valuations of firms surged even though there is little clarity on revenue or operational growth.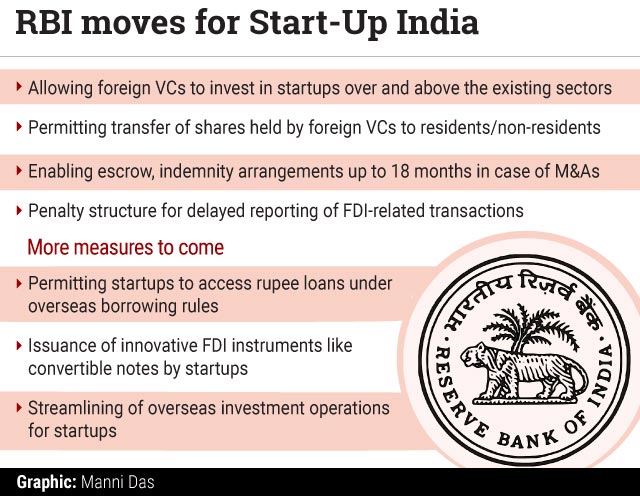 While analysts largely welcomed the RBI's measures to help startups, some doubted whether these measures were enough to help the ecosystem. "It will boost the startup ecosystem. Permitting foreign venture capital investment into startups will certainly attract more funding," said Amarjeet Singh, partner at KPMG in India.
Harish HV, partner at Grant Thorton India LLP, said that these steps together with the startup action plan announced by the government last month and more initiatives expected from the Ministry of Corporate Affairs would help startups.
"These were all procedural issues that were brought up to the RBI. These are not mega reforms. Sometimes small reforms are better than bigger reforms as they are more challenging. Removal of these small irritants can make life a lot easier," he added.
Sunil Goyal, founder and CEO of YourNest Angel Fund, noted however that there was still something amiss from the RBI announcement.
"To trigger faster economic growth with controlled inflation, we need supply-side triggers. Credit off-take and investments from banks for startups need to enhance significantly," he said.
He added that Investment by banks in startups via alternative investment funds or direct loans in startups must be on a par with priority-sector lending without the capital market norms ceiling. "We missed seeing an express clarity on non-residents being able to invest in alternative investment funds."
There are more measures in store in coming months. The central bank said that it was considering permitting start-ups to access rupee loans overseas with relaxations in respect of eligible lenders. Startups may also be allowed to issue innovative FDI instruments like convertible notes, it said.
"These proposals, if they go through, will improve investor participation and help startups to raise capital at a low cost," said Singh of KPMG. The RBI also said that it would work towards streamlining overseas investment operations for startups, besides clarifying norms on collection of payments by startups on behalf of their subsidiaries abroad.
---