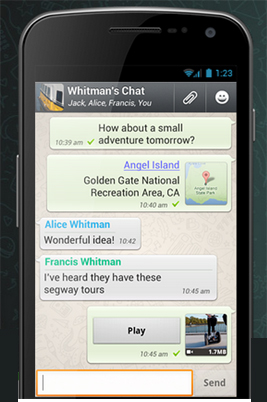 WhatsApp, the world's most popular mobile messenger service, and Google's email service Gmail have crossed the one billion monthly active user milestone.
WhatsApp is Facebook Inc's second most-used app after its main social networking app, which has 1.44 billion mobile monthly users. Gmail is Google's sixth service to hit the one-billion mark after Google search, YouTube, Google Maps, Android and Google Play.
The milestone announcement was made by Facebook founder and CEO Mark Zuckerburg on his Facebook page where he wrote, "WhatsApp's community has more than doubled since joining Facebook. We've added the ability for you to call loved ones far away. We've dropped the subscription fee and made WhatsApp completely free." He added that the company is now working on improving communication between businesses.
WhatsApp had decided to drop its annual subscription service last month. It has been free for the first year and charged most users $0.99 per year.
WhatsApp was founded by Yahoo veterans Brian Acton and Jan Koum in 2009. The messaging app was acquired by Facebook, in its biggest buyout till date, for a whopping $19 billion in February 2014.
WhatsApp competes with messaging apps like LINE, Viber and Hike in India.
It is the most-used instant messaging app in India. According to a TNS report, 56 per cent of the country's internet population uses the messenger service, followed by 51 per cent using Facebook. Many small businesses in the country rely on WhatsApp to connect with their customers.
The Gmail announcement was made by Google CEO Sundar Pichai during Alphabet's fourth-quarter earnings call. Google has added at least 100 million new users to its email service since last May when it last gave an update.
Launched in beta in 2004, the service has gradually grown to become a ubiquitous email platform and the beta label was abolished in 2009. In 2014, Google introduced the Inbox by Gmail email client and launched Smart Reply, an Inbox feature that lets users quickly and easily respond with automatically-generated suggested messages. Gmail app competes with Outlook and Yahoo! Mail.
---